Under Article 1 of the Constitution, the territory of India comprises three categories of territories:
(a) Territories of the states
(b) Union territories
(c) Territories that may be acquired by the Government of India at any time.
At present, there are Eight union territories and no acquired territories.
The union territories are those areas which are under the direct control and administration of the Central government. They are also known as 'centrally administered territories.
Existence of these territories constitutes are departure from federalism in India
CREATION OF UNION TERRITORIES
In 1956 'union territories' were constituted by the 7th Constitutional Amendment Act (1956) and the States Reorganisation Act (1956).
Some of these union territories have been elevated to statehood like Himachal Pradesh, Manipur, Tripura, Mizoram, Arunachal Pradesh and Goa, which are states today were formerly union territories.
Union Territories are
1. Andaman and Nicobar Islands
2. Chandigarh
3. Dadra and Nagar
4. Haveli and Daman and Diu
5. National Capital Territory of Delhi
6. Jammu and Kashmir
7. Lakshadweep
8. Ladakh
9. Puducherry.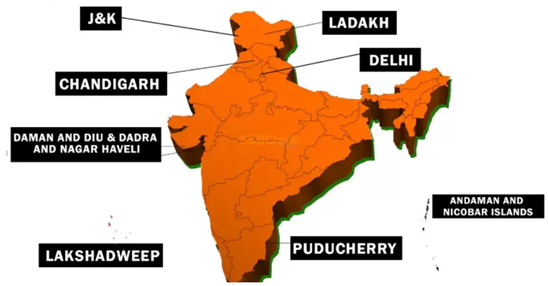 The union territories have been created for a variety of reasons like
Political and administrative consideration: Delhi and Chandigarh.
Cultural distinctiveness: Puducherry, Dadra and Nagar Haveli, and Daman and Diu.
Strategic importance: Andaman and Nicobar Islands and Lakshadweep.
Special treatment and care of the backward and tribal people: Mizoram, Manipur, Tripura and Arunachal Pradesh which later became states.
Administration of union territories
The Union Territories are administered by the President through an administrator appointed by him with a suitable designation. In most of the Union Territories, the administrator is designated as Lt. Governor.
The President may appoint, if he wishes, the Governor of a State as the administrator of an adjoining Union Territory and when a Governor is so appointed he will exercise his functions as administrator of a Union Territory independently of his Council of Ministers. The President may frame regulations for the peace, progress and good government of Andaman and Nicobar Islands, Lakshadweep, Dadra and Nagar Haveli, Daman and Diu and Pondicherry when the Assembly of Pondicherry is dissolved or suspended. Andy such regulation has the same effect as a Parliamentary enactment. Parliament is empowered to constitute a High Court for any UnionTerritory or to declare any existing court there; to be a Hugh court. Until such a High Court is established, these High Courts under those jurisdiction these territories had remained, will continue to exercise such jurisdiction in relation to these territories. On this basis Chandigarh falls under the jurisdiction of High Court of Punjab and Haryana, Delhi has its own High Court of Delhi the jurisdiction of High Court of Bombay extends over Dadra and Nagar Haveli, High Court of Kerala has jurisdiction over Lakshadweep, Pondicherry falls under the jurisdiction of High Court of Madras and High Court of Calcutta exercises jurisdiction over Andaman and Nicobar Islands.
To associated popular elements with the Central Administration or Union Territories, Advisory Committees have been established.
These Committees are consulted by government in regard to:
(i) General questions of policy relating to the administration of subjects in the State List.
(ii) All legislative proposals in the State List pertaining to the territories; and
(iii) Matters relating to the annual financial statements of the territories. The Parliament is authorized to create by law democratic structures in the Union Territories. The Parliament has provided for an elected legislature for Pondicherry and Delhi.

Difference between a state and union territory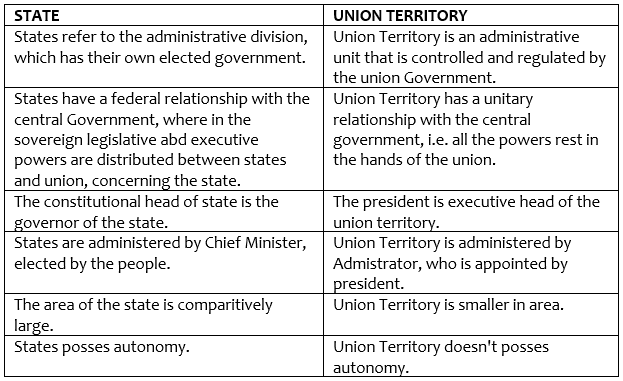 Table : Articles Related to Union Territories at a Glance