URBAN GROWTH
In continuation of the previous module where we learned about the discovery of IVC, timeline of IVC and theories of its origin. We now proceed on move to the study of important sites of IVC and its urban growth. It extended over a core area of 1500 square kilometers and during its peak was home to 1-5 million people based on a conservative estimate.
The Indus Valley civilization extended from Pakistan's Balochistan in the west to India's western Uttar Pradesh in the east, from north-eastern Afghanistan in the north to India's Gujarat state in the south.
Extent of IVC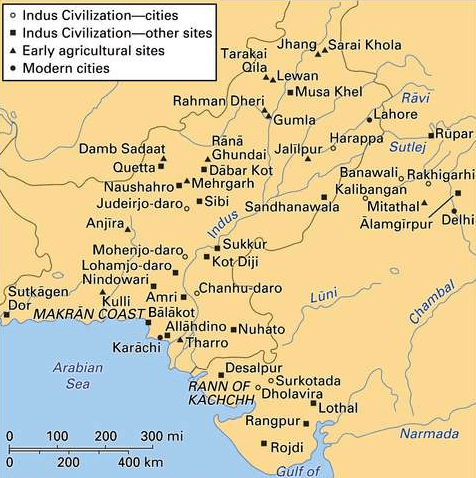 IVC Urban Centres
The above is the map of important IVC centres – some are early agriculture sites (belong to pre-harappan period), some are IVC important cities (mature harappan sites) while others are less important cities. All these have been compared in the backdrop of present day cities.
Question 1:According to the latest excavations, Manda is the______site of the Indus Civilization?
Details and Significance Of IVC Sites
1. Mohenjo-daro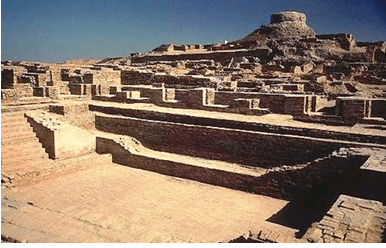 Excavated site of Mohenjo-daro
Literally means 'the mound of dead men'.
It is located on the banks of the Indus river in the Sindh province of Pakistan.
It is one of the better preserved cities of the IVC.

Dancing Girl

is a prehistoric bronze

sculpture

made

in lost-wax casting about c. 2300-1750 BCE in the Indus Valley Civilisation city of

Mohenjo-daro

(in modern-day Pakistan), which was one of the earliest cities.

Built around 2500 BCE, it was one of the largest settlements of the ancient Indus Valley civilization, and one of the world's earliest major cities.
The most dramatic characteristic of the city is a commanding Citadel. It is a massive, mud-filled brick embankment which rises 43 feet above the lower city. The Citadel contained a 'College', a multi-pillared 'Assembly Hall' and the famous 'Great Bath'.
Most Mohenjo-daro houses are built of kiln fired bricks. The major streets are 33 feet wide and run north-south intersecting subordinate ones, running east-west, at right angles.
There is a large granary consisting of a podium of square blocks of burnt-brick with a wooden superstructure.
Parallel rows of two-roomed cottages were found. These cottages were perhaps used by the workmen

or the less well off sections

of society.
The city of Mohenjo-daro shows nine levels of occupation above the present floodplain. The city was flooded at least 7 times.
2. Harappa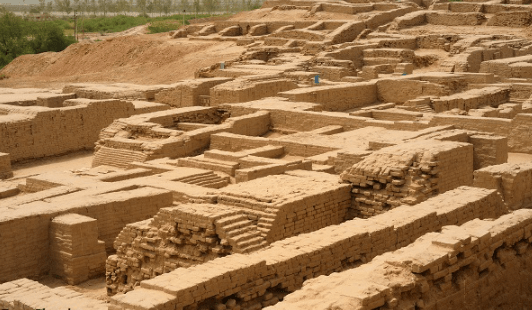 Excavated site of Harappa
3. Kalibangan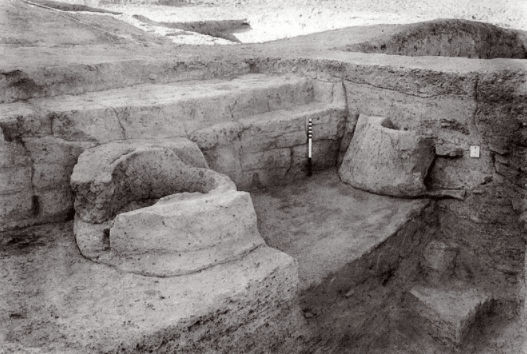 Excavated site of Kalibangan
It is located on the banks of the ancient river Saraswati, now known as Ghaggar-Hakra in Rajasthan, India.
There is evidence of mud-brick fortification here in both citadel and lower town.
Here there is evidence that the fields were ploughed and is the world's earliest attested ploughed field. One of the platforms within the city citadel had fire altars which contained ash.
Another platform has a kiln-burnt brick lined pit containing bones. These suggest the practice of the cult of sacrifice.
The existence of wheel conveyance is proved by a cart-wheel

with

a single hub.
A bangle factory was also excavated here.
4. Lothal
Excavated site of Lothal
It is one of the southernmost cities of the Indus Valley Civilization located near the Gulf of Khambhat in Gujarat, India.
It was a major port city and evidence of docks has been found.
Lothal was a vital and thriving trade centre in ancient times, with its trade of beads, gems and valuable ornaments reaching the far corners of West Asia.
The discovery of weights and measures proves that they knew arithmetic as well which is shown by a scale found at Lothal.
It was surrounded by a thick, mud-brick wall on three sides, southern, western and northern.
The dockyard and a wharf loading platform were located on the eastern side.
Lothal is famous for its double burials.
5. Chanhudaro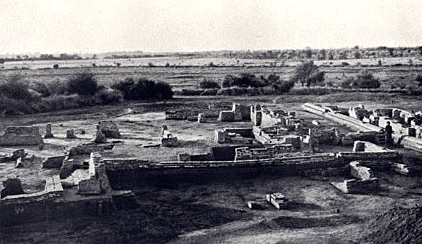 Excavated site of Chanhudaro
It is located south of the Mohenjo Daro site in Sindh, Pakistan.
It is

theorised

that Chanhudaro was located on the banks of the ancient Saraswati River.
The city was twice destroyed by inundation.
There was no citadel found in the site.
Several constructions were identified as workshops or industrial quarters and some of the buildings of Chanhudaro might have been warehouses.
A Bead Making Factory was found at Chanhudaro, which included a furnace.
Question 2:Lothal, a prominent site of Indus Valley Civilization, is situated in
Question 3:Which of the following sites has furnished the proof of the sea faring activity of the Harappan people?
6. Kot Diji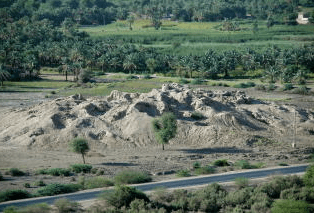 Kot Diji
It is situated on the left bank of Indus river east of Mohenjo Daro.
Wheel made of painted pottery, traces of a defensive wall and well-aligned streets, knowledge of metallurgy, artistic toys etc.
The earliest occupation of this site is Pre-Harappan and is termed as Kot Dijian culture.
It immediately preceded the Harappan phase.
7. Amri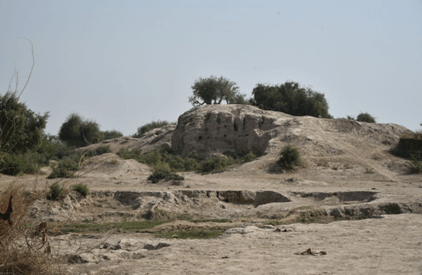 Amri
It is

situated to the south of

Mohenjo-daro.
Knowledge of metal working, use of wheel pottery with animal figures painted on it, construction of rectangular houses, etc.
This site is also Pre-Harappan and the culture here is called Amri culture.
Amri had multi-level structures.
It had distinct pottery technology called Amri ware.
No writings were found at this site.
8. Banawali
Banawali
It is situated on the left bank of the dried up Saraswati River in Haryana, India.
Similar to Kalibangan, Amri, KotDiji and Harappa, Banawali also shows two cultural phases: pre-Harappan and Harappan.
Large quantities of barley, sesame and mustard were discovered here.
A multi roomed house having a kitchen and a toilet was found, indicating that it may have belonged to a rich person.
The settlement at Banawali was in an oval shape..
It is the only IVC city that had radial streets.
9. Surkotada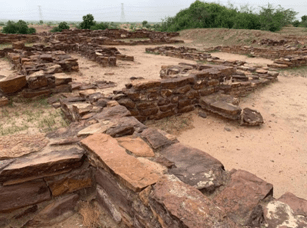 Surkotada
This site is located on the banks of now dried up river in the Kutch district of Gujarat, India.
The settlement was comparatively smaller than other IVC sites.
Both the citadel and the lower town discovered here were fortified.
The total built up area of Surkotada is in the form of a rectangle.
The gates of Surkotada were different from the general Harappan design trends.
This is particularly renowned for the remains of a horse jaw excavated from the site.
Question 4:From among the below listed cities, pick out those in which the lower town was also fortified
I. Mohenjodaro
II. Harappa
III. Lothal
IV. Kalibangan
V. Chanhudaro
VI. Surkotada
10. Desalpur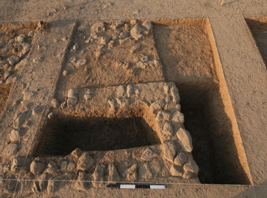 Burial pit in Desalpur.
It is situated on the Bhadar River near Bhuj, Gujarat.
It was a fortified township built of dressed stone with mud filling inside.
The houses were constructed just against the fortification wall.
In the centre, there was a building with massive walls and spacious rooms.
Remains of a glazed ware pottery were found here.
11. Ropar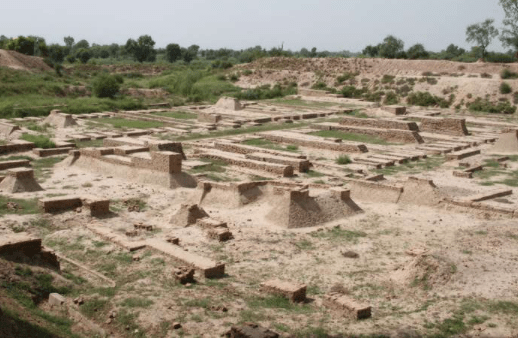 Ropar in Punjab
It is situated on the bed of the Ghaggar-Hakra River and today it lies on the banks of the Sutlej river in Punjab, India.
The pottery is similar to that of the ones found from Kalibangan.
The discovery of a dog buried below a human oval pit burial is interesting.
12. Dholavira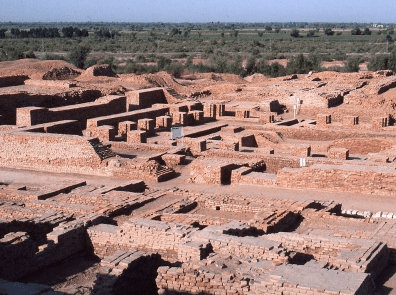 Dholavira
It is one of the largest IVC sites discovered in post-independence India in 1967 but excavations began in 1990-91.
It is located in Kutch district of Gujarat.
Dholavira is famous for its water conservation and storage infrastructure.
A Giant Water Reservoir and a unique water harnessing system were discovered here.
Unlike other Harappan cities, Dholavira was divided into three principal divisions, two of which were strongly protected by rectangular fortification.
A huge circular structure on the site is believed to be a grave or memorial. It has ten radial mud-brick walls built in the shape of a wheel with spokes.
Seven hemispherical constructions were found at Dholavira which were most likely burial tombs.
Another significant discovery from here was what appears to be an advertisement board inscribed with 10 large signs.
13. Rakhigarhi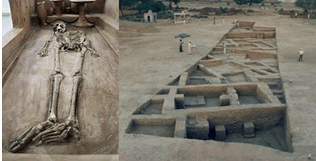 Rakhigarhi
It is located on the seasonal Ghaggar-Hakra river plains in Haryana, India.
The architecture here was similar to other Harappan cities.
A unique feature from this site is that unlike other Harappan sites, here burials here were also done in the prone position.
The roads here were wider than usual.
Recently, DNA analysis was performed on some of the skeletons unearthed from Rakhigarhi.
Question 5:Consider the following table:

Which is/are correctly matched?
Question 6:The ancient city of Harappa was located on the banks of
Question 7:Match the following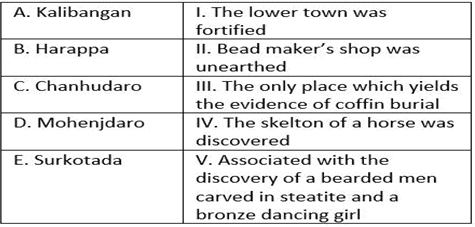 Question 8:In the year 1990-91 a Harappan site was excavated at