Introduction
The Vice President occupies the second-highest office in the country
In the official warrant of precedence
Office meant to maintain the political continuity of the Indian State.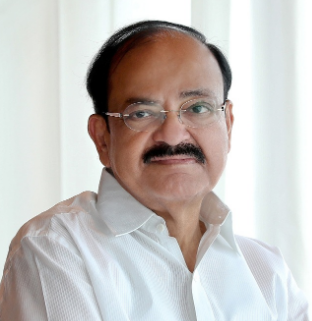 Election
Not elected directly
Proportional representation by means of a single transferable vote
Secret ballot voting
Indirect elections by members of the Parliament. Both elected and nominated
States not included, as the normal function of the VP is to preside over RS. Not necessary for the states to take part in the election of the VP.
20 electors as proposers
20 electors as seconders
Rs 15000 deposit with the RBI
Qualifications
Citizen of India
Above 35 years
Should be qualified for election as a member of the RS
Should not hold any office of profit under any public authority
A sitting President, VP, governor, or minister is not deemed to hold any office of profit, thus qualified to run for elections.
Oath
Administered by the President or some person appointed by the President
➤ VP swears to
Bear true faith and allegiance to the Constitution of India
Faithfully discharge the duties of his office
Conditions of Office
➤ Constitution Lays down 2 conditions
Should not be a member of either House of Parliament of State legislature. If elected, deemed have vacated legislative seat
Should not have any office of profit
➤ Term
5 Years
Can resign in writing to the President
Can be removed by an absolute majority of the RS, agreed to by the LS
14 days' notice
No specific grounds for removal in the Constitution
➤ Election Disputes
SC's decision is final and binding.
Election of the VP cannot be challenged on the grounds that the electoral college was incomplete.
If election is declared void, then acts done by the VP before the date of declaration that the election is void are not invalidated.
➤ Emoluments
Constitution has not fixed any emoluments for the VP
Gets salary as the ex-officio chairperson of the RS
When acting as President, gets salary and allowance of the President
Powers Functions
(i) Ex-officio chairperson of the RS
Powers and functions similar to that of the Speaker of the LS
American VP plays a similar role as the Chair of the American Senate
(ii) Acting President when a sitting President is unable to discharge his duties, or when a vacancy occurs
Office of President vacant due to resignation, removal, death or otherwise
Can act as a VP for a maximum 6 months, by when fresh Presidential elections need to be held
(iii) When acting as President, the VP does not discharge duties of the Chair of the RS. This is done by the Deputy Chair of the RS.
Vacancy
(i) Vacancy in the VP's office can occur in the following situations:
On expiry of tenure of 5 years
Resignation
Removal
Death
Otherwise: when election is declared void etc.
(ii) In case of expiry of term, election must be held beforehand
(iii) In case of other reasons for vacancy, fresh elections need to be held as soon as possible
(iv) Newly elected VP to serve full 5-year term
American VP: In Comparison with Indian VP
(i) Indian VP's office is based on the lines of the American VP's office.
(ii) Differences:
American VP succeeds the Presidency when it falls vacant. Remains President for the unexpired term of his predecessor
Indian VP only becomes acting President