Drainage System
On the basis of the origin of the rivers, Indian river systems can be classified as:
1. Himalayan Rivers
2. Peninsular Rivers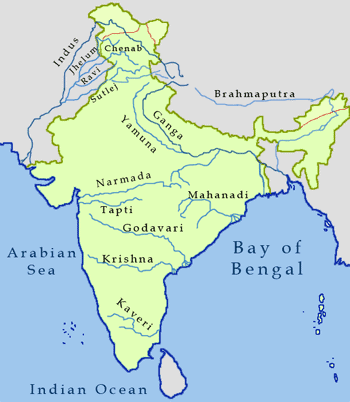 Indian Rivers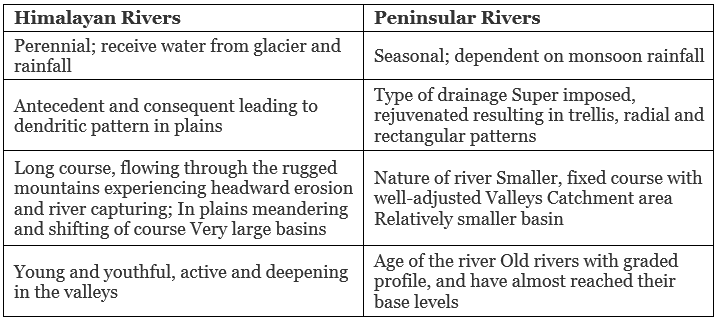 HIMALAYAN RIVER SYSTEM
It comprises of the following 3 major river system:
1. The Indus river system
2. The Ganga river system
3. The Brahmaputra river system
1. The Indus river system
It has a total length of 2880 km (1114 km in India).
It originates from a glacier near Bokhar Chu in kailash Mountain range in Tibet region and finally falls into Arabian Sea near karachi.
In tibet, it is known as "Singi khamban"
In Jammu and Kashmir, its Himalayan tributaries are: Zanskar, Dras, Gartang, Shyok, Shigar, Nubra, Gilgit, etc.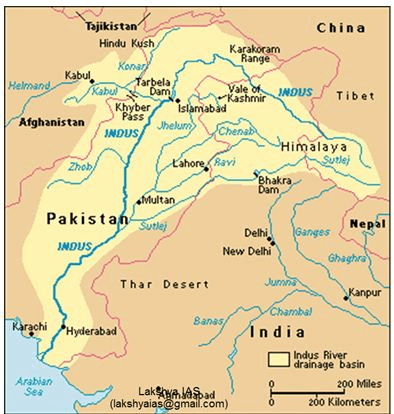 Its most important tributaries, which join Indus at various places, are:
Jhelum (725 km),
Chenab (1800 km),
Ravi (720 km),
Beas (470 km) &
Sutlej (1050 km).
These rivers join Indus at Mithankot.

2. The Ganga river system
It is 2525 km long; of which 110 km flows in Uttarakhand, 1450 km in UP, 445 km in Bihar and 520 km in West Bengal.
The Ganga is constituted of two main rivers – Bhagirthi and Alaknanda, which combine at Devprayag to form Ganga.
Before Alaknanda meets Bhagirthi at Devprayag, Mandakini meets Alaknanda at Rudraprayag.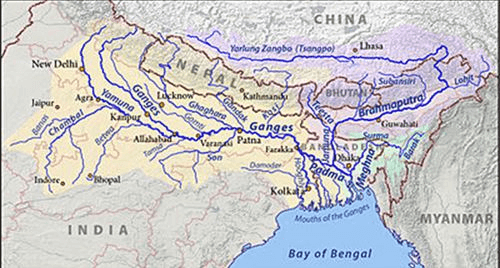 Sources: Bhagirthi from Gaumukh, Alaknanda from Badrinath, Mandakini from Kedarnath (all from Uttarakhand).
The river finally falls into Bay of Bengal near the Sagar Island.
Yamuna is the important tributary of Ganga
Apart from Yamuna, other tributaries of Ganga are:
Ghaghra (1080 km),
Son (780 km),
Gandak (425 km),
Kosi (730 km),
Gomti (805 km),
Damodar (541 km).
Kosi is infamous as 'Sorrow of Bihar', while Damodar gets the name 'Sorrow of Bengal' as these cause floods in these regions.
Hooghli is a distributary of Ganga flowing through Kolkata.
Yamuna (1375 km) is its most important tributary (on right bank).
It rises at the Yamunotri glacier in Uttarakhand.
It runs parallel to Ganga for 800km and joins it at Allahabad.
Important tributaries of Yamuna are:
Chambal (1050 km),
Sind,
Betwa (480 km) and Ken
Ghaghra (1080 km)
Originates from the glacier of Mapchachungo
It is joined by kali river
It meets Ganga at Chhapra
Gandak (425 km)
Rises in Nepal Himalayas
Enters the Ganga plain in Champaran
Joins Ganga at Sonpur near Patna
Kosi (730 km)
Its source is to the north of Mount Everest in Tibet
Ramganga
Rise in Garhwal hills
Joins Ganga near kannauj
Damodar (541 km)
Rises in Chhotanagpur plateau
Flows in a rift valley & finally joins river Hugli
Chambal
A tributary of Yamuna
Rises near Mhow in Malwa plateau, M.P
Famous for its badland topography
Son (780 km)
A tributary of Ganga
Originates from Amarkantak plateau
Joins Ganga near Patna
3. The Brahmaputra River system
It has a total length of 2900 km.
It rises in Tibet (from Chemayungdung glacier) near Mansarovar lake, where it is called Tsangpo,
It enters the Indian territory (in Arunachal Pradesh) under the name Dihang.
Its important tributaries are: Subansiri, Kameng, Dhansiri, Manas, Teesta.
In Bangladesh, Brahmaputra is known by the name of Jamuna while Ganga gets the name Padma.
Their combined stream is known as Padma only.
Meghna is the most important distributory before it enters the Bay of Bengal.
The combined stream of Ganga and Brahmaputra forms the biggest delta in the world, the Sundarbans (58,752 sq. km).
On Brahmaputra is the river island, Majuli in Assam, the biggest river island in the world.
PENINSULAR RIVERS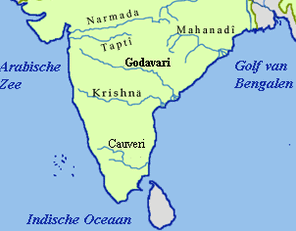 Mahanadi River (858 km)
Rises in Raipur distt. in Chhatisgarh.
Main tributaries: lb, Seonath, Hasdo, Mand, Jonk, Tel, etc.
Godavari River (1465 km)
Also called Vriddha Ganga or Dakshina Ganga.
It is the longest peninsular river.
Rises in Nasik.
Main tributaries: Manjra, Penganga, Wardha, Indravati, Wainganga, Sabari, etc.
Krishana river
Rises in Western Ghats near Mahabaleshwar.
Main tributaries: Koyna, Dudhganga, Panchganga, Malprabha, Ghatprabha, Bhima, Tungabhadra, Musi, etc.
Swarnarekha River (395 km) and Brahmani (705 km)
Cauvery River (805 km)
It is the largest peninsular river (maximum amount of water).
Infact, it is the only peninsular river which flows almost throughout the year.
Known as the 'Ganga of the South'.
It rises from the Brahmagir range of Western Ghats.
Main tributaries: Hemavati, Lokpawni, Shimsa.
Narmada River (1057 km)
Rises in Amarkantak Plateau and flows into Gulf of Khambat.
It flows in a rift valley between Vindhya & Satpura.
It forms the famous Dhuan Dhar Falls near Jabalpur.
Main tributaries: Hiran, Burhner, Banjar, Shar, Shakkar, Tawa, etc.
Tapti River (724 km)
Rises from Betul distt in MP
Main tributaries: Purna, Betul, Arunavati, Ganjal, etc.
Mahi River (560 km)
Rises from Vindhyas in MP
Luni River (450 km)
Rises from Aravailis.
It is finally lost in the marshy grounds at the head of the Rann of Kuchchh.
Shravati
Sharavati is a west flowing river of the Sahyadris.
It forms the famous Jog or Gersoppa or Mahatma Gandhi Falls (289 m), which is the highest waterfall in India.