The word tort has been derived from the Latin term 'tortum' which means 'to twist'. It includes that conduct which is not straight or lawful but on the other hand, twisted, crooked or unlawful. It is equivalent to the English term 'wrong'. This branch of law consists of a various torts or wrongful acts whereby the wrongdoer violates some legal right vested in another person.
Example: Violation of a duty to injure the reputation of someone else results in the tort of defamation, violation of a duty not to interfere with the possession of land of another person result in the tort of trespass etc.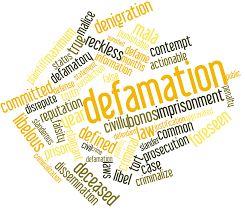 SOME IMPORTANT DEFINITIONS
Black's Law Dictionary defines a tort as – A civil wrong for which a remedy may be obtained, usually in the form of damages.
Salmond's Definition- Tort is a civil wrong for which remedy is a common law action for unliquidated damages, and which is not exclusively the breach of contract, or the breach of trust, or other merely equitable obligation.
Winfield's Definition- Tortious liability arises from the breach of duty primarily fixed by law. This duty is towards persons generally and it's breach is repressible by an action for an unliquidated damages.
Fraser's Definition- Tort is an infringement of a right in rem (right in general) of a private individual giving a right of compensation at the suit of the injured party.

NATURE OF TORT
1. Tort is a Civil wrong: Tort belongs to the category of civil wrong. The basic nature of civil wrong is that in such cases the main remedy is damaged. The plaintiff is compensated by the defendant for the injury caused to him by the defendant.
2. Tort and breach of contract: The liability under law of tort arises from breach of duty fixed by law; while in case of contract the duty is fixed by the parties themselves.
3. In tort, the duty is fixed by law and as such a person may have to pay the penalty or damages for he may not intend to cause any loss, or he may himself have not committed any wrong but is liable for the act of his servant.
4. Tort is redressible by an action for unliquidated damages: Damages is the most important remedy for a tort. This is because after the commission of the wrong it is generally not possible to under the arm which has already been caused. Damages in the case of a tort are unliquidated. Unliquidated damages are those where the compensation has not been previously determined but the determination of the same is left to the discretion of the court.

ESSENTIALS OF A TORT
1. There must be some act or omission on the part of the defendant: In order to make a person liable for a tort, he must have done some act which he was not expected to do or must have omitted to do something which he was supposed to do. Similarly, when there is a legal duty to do some act and a person fails to perform that duty, he can be made liable for such omission.
2. The act or omission should result in legal damage. Legal damage or injury means infringement or violation of some legal right of the plaintiff.
3. It must give rise to a right.
Distinction between Tort and Crime:
Tort
Crime
1. Tort is an infringement
of private or civil rights of
an indicial.
1. Crime is a breach of
public rights affecting
whole society.
2. The forum of redressal
of a tort is a civil court.
2. In crime the
proceedings are
initiated in a criminal
court.
3. In tort the wrongdoer
has to pay damages to the
injured party.
3. In crime the
wrongdoer is punished
by the State.
4. In case of tort, the action
is initiated by the injured
party or his
representatives.
4. In crime, intention is
of prime importance.

Distinction between Tort and Breach of Contract:
Tort
Breach of Contract

1. Tort results from the breach of such duties which are not undertaken by

parties themselves but which are imposed by law.

1. A breach of contract
results from breach of a duty undertaken by the parties themselves.
2. Duties imposed by law
under law of torts are not
towards any specific
individual or individuals but
are towards the world at
large.
2. In a contract the duty is
based on privity of contract
and each party owes duty
only to the other contracting
party.
3. A tort is a violation of a
right in rem (i.e. a right
vested in some determinate
person and available against
the world at large).
3. A breach of contract is
an infringement of a right in
personam (i.e. a right
available only against some
determinate person or
party).
4. Damages in case of
breach of tort are generally
unliquidated and are
determined by the court on
the facts and circumstances
of each case.
4. In contract damages are
fixed according to the terms
and conditions of contact.
5. In an action for tort, no
privity is needed or is
required to be proved.
5. In a breach of contract
privity between the parties
must be proved.

Distinction between Tort and Breach of Trust: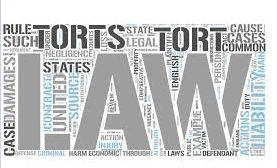 In case of breach of trust by trustee, the beneficiary can claim such compensation which depends upon the loss that the trust property has suffered. Thus, damages in case of breach of trust are liquidated. On the other hand, damages in a tort are unliquidated. In case of breach of trust, there exists a relationship of trustee and beneficiary between the two, but it is not such tort. Trust is a breach of law of property, while tort is not.
Two important maxims explain this concept and liability in torts. They are:
(i) Damnum Sine injuria
(ii) Injuria Sine damnum

DAMNUM SINE INJURIA (Damage without injury)
Damnum means substantial harm, loss or damage in respect of money, comfort, health or the like. Injuria means infringement of a right conferred by law on the plaintiff or an unauthorized interference with the plaintiff's right.
Damnum Sine Injuria means damage which is not coupled with an unauthorized interference with the plaintiff's lawful right. The mere fact that a man suffers a loss by act of a person gives in itself no cause of action.
The leading case on the point is : A number of steamship companies combined together and drove the plaintiff company out of the tea carrying trade by offering reduced fright. The house of lords held that the plaintiff had no cause of action as the defendants had by lawful means acted to protect and extend their trade and increase their profits.
In the case of Mayor & Bradford Corporation Vs. Pickles (1895), Pickles was annoyed by the refusal of Bradford Corporation to purchase his land for their water undertaking. Out of spite, he sank a shaft on his land, which had the effect of discoloring and diminishing the water of the Corporation, which percolated through his land. The House of Lords held that the action of Pickles was lawful and no matter how ill his motive might be he had a right to act on his land in any manner that so pleases him.

INJURIA SINE DAMNO (INJURY WITHOUT DAMAGE)
It means violation of a legal right without causing any harm, loss or damage to the plaintiff. In this, there is no need to prove that as a consequence of an act the plaintiff has suffered any harm the only thing which has to be proved is that the plaintiff's legal right has been violated i.e. there is injuria.
Ashby vs White(1703) is a leading case explaining the maxim, injuria sine damnum.
In this case: A was wrongfully prevented by the returning officer from exercising his vote at a parliamentary election. No loss was suffered by a because the candidate for whom he wanted to vote got elected by a huge margin. A would have recovered damages on the ground that his legal right to vote was violated by the returning officer.