What is NEET Exam?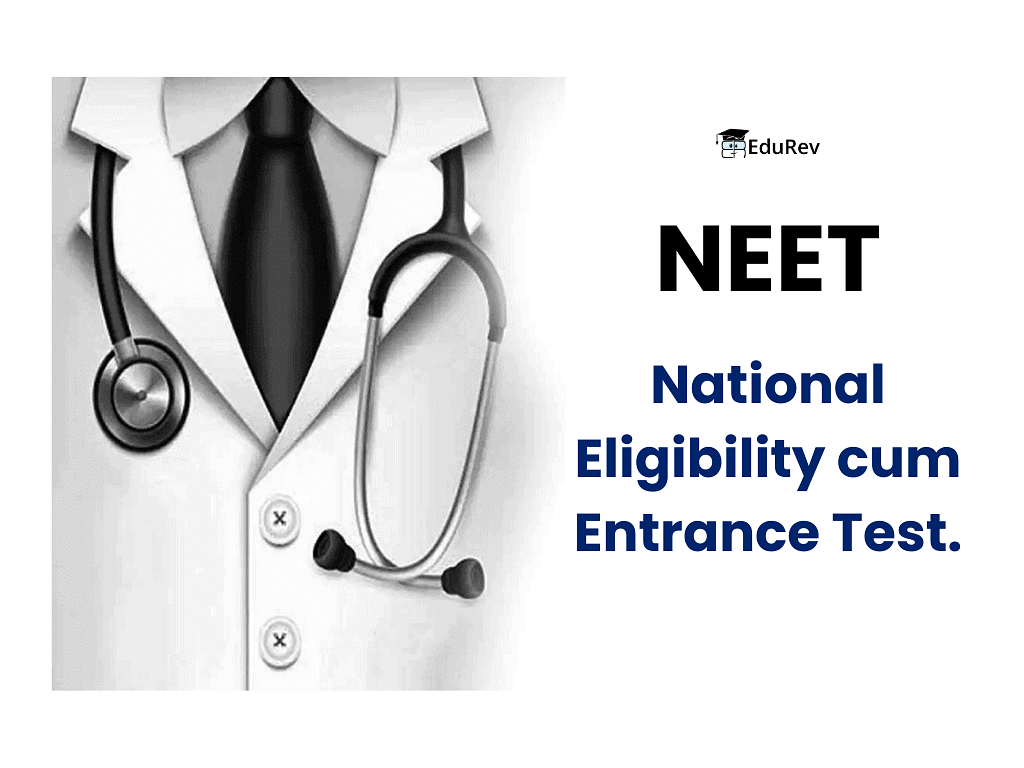 It is held annually and administered by the National Testing Agency (NTA).
The exam is held in a traditional, paper-based format and lasts for 3 hours and 20 minutes.
A large number of students, approximately 15 lakh, take the NEET exam each year for the opportunity to study a range of medical and paramedical fields, including medicine, dentistry, nursing, and veterinary science.
Why should you give NEET Exam?
NEET – The Only Medical Entrance Test: The National Eligibility cum Entrance Test (NEET) is now the only way for students to gain admission to medical schools in India, including those located abroad.
A fair share of opportunity: The NEET examination ensures a transparent and fair admission process, as all students are required to take the same examination. This eliminates the chances of bias or favoritism in the admission process.
Follow One Pattern: Before NEET emerged as the common entrance test, students had to get acquainted with multiple tests, their syllabi, format, pattern, etc. Now, there is no room for any confusion as one must just get familiarized with the pattern of NEET 2024 only.
To know more, you can check out the EduRev document of Exam Pattern.
Saves Money and Time: NEET addresses two significant concerns by saving students both time and money. It eliminates the need for multiple test applications and preparation expenses.
Option of Challenging

Candidates who will appear in the NEET (National Eligibility cum Entrance Test) 2024 exam can match their marked answers with the NEET 2024 answer key to calculate the approximate scores.
Unlike other tests, NEET provides an option for students to challenge their responses by uploading each students' OMR response sheet.
In case after verification, students find any discrepancy, the same can be challenged.
To know more about how to challenge any discrepancy in your NEET Responses, click the link of EduRev document for the same.

Availability of Seats

NEET qualification allows students to secure seats under the All India Quota, which comprises 15% of total seats, and State Quota, which makes up 85% of total seats.
By passing NEET, students have the opportunity to claim seats in these quotas, via the respective state.

No Attempt Limit: The recent changes in NEET rules have removed the restriction on the number of attempts a student can take, allowing them unlimited opportunities to achieve their medical aspirations, while they still need to meet the lower age limit requirement.
Lots of Opportunities: For those aspiring to pursue a medical career, NEET is an indispensable entryway. It may seem daunting, but it can open up a world of possibilities. Those who wish to attend the top colleges and universities must pass NEET to make their dreams a reality.
To know more about opportunities after NEET, read this EduRev document: Career Options After Class 12th For Medical Aspirants.
EduRev has helped more than 1 crore students who have been preparing for their exams, giving them access to quality educational courses and providing them with quick solutions to their doubts through EduRev Infinity. Now it is time for you to discover the ways in which EduRev Infinity for NEET can help you with your NEET preparation and the resources it offers, so that you can get everything you need for NEET preparation in one place. Click below to watch the video & check out the same.
Also see, how user's are happy after using the app and scoring well in exam, click here.
NEET Exam: Key Highlights
The National Testing Agency (NTA) will carry out the 2024 NEET exam using the pen and paper format, which will last 3 hours and 20 minutes. Candidates will be required to answer a range of Multiple Choice Questions (MCQs) from Physics, Chemistry, and Biology topics as specified in the NEET syllabus. Here are the Key Highlights of NEET Exam.
Factors in Exam Pattern

Details

NTA NEET NEET 2024 exam date

May (Tentative)

Mode of NEET question paper

Pen and Paper-based. Candidates will be given an OMR sheet to mark the answers with a black or blue ballpoint pen

Duration of the NEET exam

3 hours and 20 minutes

Language/medium

English, Hindi, Assamese, Bengali, Gujarati, Marathi, Tamil, Telugu, Oriya, Malayalam, Kannada, Punjabi and Urdu

Question Type

Multiple choice questions

Total number of questions asked in NEET Exam

A total of 200 questions will be asked out of which candidates will have to answer 180 questions

Total marks in NEET

720 Marks

NEET marking scheme 2024

4 marks will be awarded for each correct answer
One mark will be deducted for each wrong attempt
No marks for unanswered question
Changes in NEET 2024 Exam
Aspirants preparing for the NEET (National Eligibility cum Entrance Test) exam in 2024 may encounter modifications in the exam as the National Testing Agency (NTA) has implemented various changes in recent years. Some of the earlier changes made in the year 2022 include:
Overall exam duration for NEET 2022 increased to 200 minutes (03:20 hours).
Changes in exam pattern, with introduction of section A and section B (In Section B, there are a total of 15 questions but you are only required to answer 10 of them).
Qualifying NEET UG exam is mandatory for Indian candidates seeking to study medicine abroad.
No restrictions on the number of attempts or upper age limit, but minimum age limit must be followed.
Qualifying NEET is mandatory for seeking admission in AIIMS and JIPMER institutes.
NEET scores accepted for female candidates seeking nursing programs at AFMS institutes.
More exam centers added, both in India and abroad (14 cities abroad).
Examination fee revised.
To know more about the changes in NEET in recent years, check out the EduRev document, click here.
NEET 2024 Important Dates
Since no official notification has been out yet, here is a table with the speculated NEET 2024 schedule predicted by the NEET experts based on previous trends.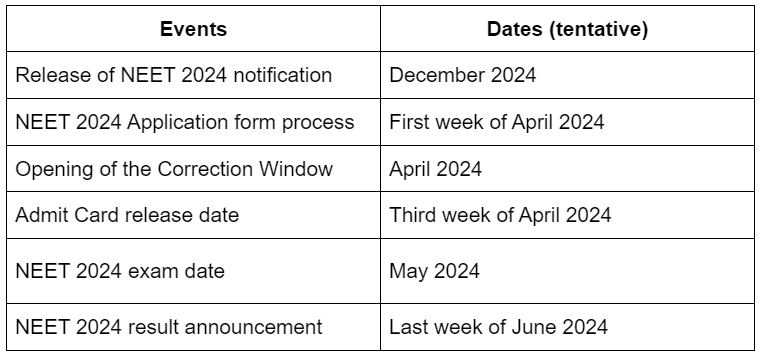 NEET 2024 Eligibility Criteria
If you are taking the NTA NEET 2024 exam, you must be aware of the eligibility criteria before registering. The exact eligibility criteria for the 2024 session will be outlined in the information brochure, available on the neet.nta.nic.in website. If any of these requirements are not met, the applicant will not be permitted to take the test.
In the diagram below, expected 2024 Eligibility Criteria is given: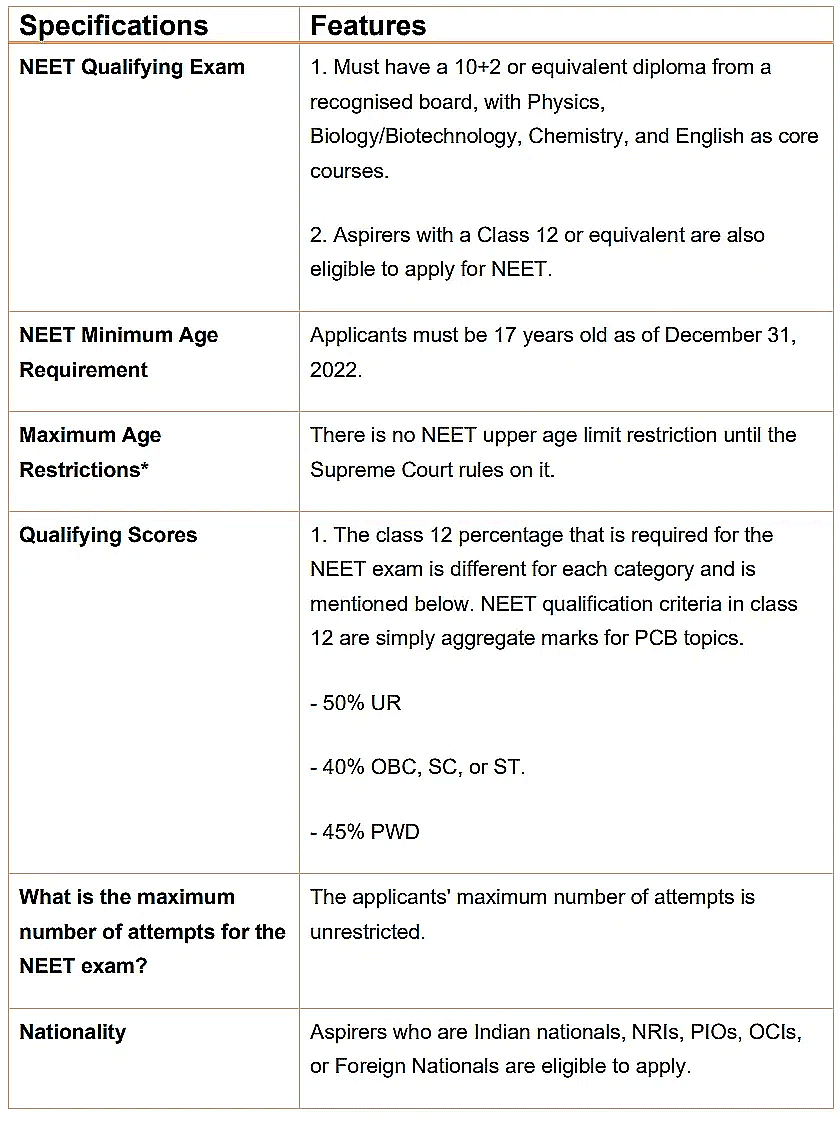 To understand more, check out the detailed EduRev document of Eligibility Criteria.
If you are not eligible to take the exam and you still apply, your application may be cancelled without any refund and there is also a chance that you will be disqualified from the counselling process or even after that. It is important to understand the eligibility requirements before applying for the exam.
NEET 2024 Registration Date, Application Form & Process
To register for NEET (National Eligibility cum Entrance Test) 2024, you need to visit the NTA website, fill out the online application form, and submit it. The official notification is released along with the form, and the registration process can be done only online.
Go to the official website of NTA for NEET: https://neet.nta.nic.in/
Click on the "New Registration" tab and provide personal details such as name, mobile number, email id, etc.

Fill in the registration form for NEET 2024 exam with details such as:
(i) Date of birth
(ii) Category
(iii) Nationality
(iv) Educational qualifications
(v) Contact details
(vi) Choice of exam center
Upload scanned copies of the required documents in the specified format.
Pay the application fee. The application fee for General/OBC applicants is 1600/-, General/OBC-NCL applicants is 1500/-, and SC/ST/SH applicants is 900/-.
Check the confirmation page and take note of the provisional application number which will be sent to the registered phone number and email ID.
To know more, check out the EduRev document of NEET Registrations.


NEET Exam Pattern 2024
Understanding the NEET exam pattern 2024 in the early preparation stages is important to boost up the level of preparation for the entrance test. In the NEET exam pattern 2024, details about the type of exam, mode of paper, language, duration, question type, official marking scheme, and more will be specified by the authority. So, preparing for the NEET exam will be inadequate without a proper familiarity with the NEET 2024 exam pattern.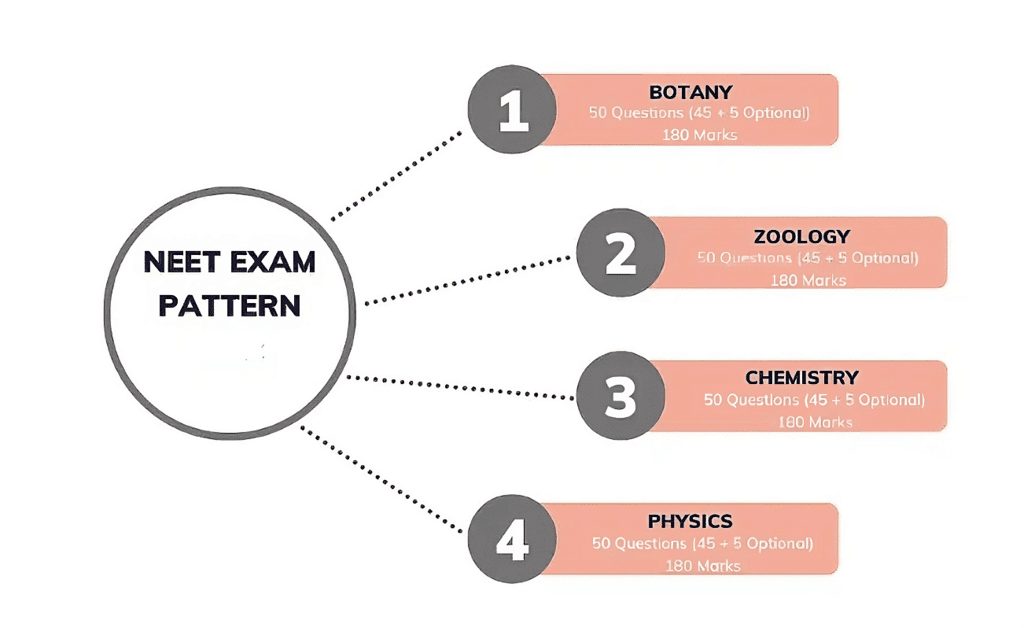 NEET Exam Sections and Total Marks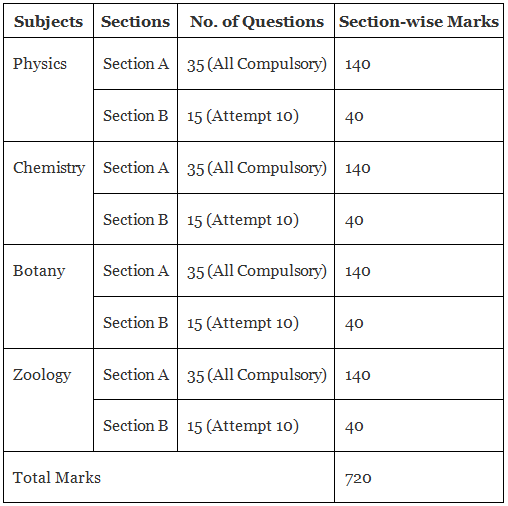 EduRev courses provide you study materials, including notes, sample and practise papers, video lectures, and more. Click on the link to obtain full access to the NEET package of EduRev Infinity. All of these resources are conveniently accessible both on the EduRev website and app.
NEET Syllabus 2024
The National Medical Commission (NMC) has announced the syllabus for NEET 2024 which is based on the Class 11 and 12 curriculum. The exam question paper for NEET 2024will be in accordance to this syllabus.
The tables below provide the subject-specific NEET syllabus for 2024.
(i) NEET 2024 Physics Syllabus
Students often find the 2024 Physics Exam exam to be challenging. To help them prepare, the following is a comprehensive syllabus of topics covered on the Physics section, along with EduRev links for each chapter to aid efficient studying.
To read the detailed syllabus of physics, checkout the EduRev document, click here.
The Class 11 Physics & Class 12 Physics course includes video lectures, quizzes, practice tests, and revision notes to aid understanding and exam preparation. It covers all syllabus topics and has real-world applications.

(ii) NEET 2024 Chemistry Syllabus
For Chemistry NEET 2024, the syllabus is expected to be quite basic and will be based on the chapters covered in 11th and 12th grades. EduRev links are provided for each chapter to make studying easier just by clicking on the links. The topics that will be included in the syllabus are listed below.
To read the detailed syllabus of chemistry, checkout the EduRev document, click here.
EduRev is a popular online platform for preparing for Chemistry Class 11 & Chemistry Class 12 exams, offering comprehensive study materials, practice tests, video tutorials, interactive quizzes, and personalized guidance from experienced teachers.

(iii) NEET Biology Syllabus 2024
The NEET Biology syllabus includes both Zoology and Botany, making it more important since it is so extensive. Here are the topics covered in the NEET Biology syllabus.
| | |
| --- | --- |
| Biology Syllabus for Class 11th | Biology Syllabus for Class 12th |
| | |
| | 2. Genetics and Evolution |
| | 3. Biology and Human Welfare |
| | 4. Biotechnology and its Applications |
| | 5. Ecology and Environment |
To read the detailed syllabus of biology, checkout the EduRev document, click here.
EduRev is a useful platform for students of Biology in Class 11 & Class 12, providing notes, questions, videos and MCQs for the subject. The notes are comprehensive and cover all relevant topics, while the questions and MCQs help students understand the subject better. The videos are short and useful for gaining a better understanding of the topics.
Study Material of NEET UG Exam Preparation
Selecting the proper study materials is an essential step to do well on the NEET exam. To begin, aspirants should gather all the necessary materials for their preparation.
EduRev provides a range of courses to support your NEET preparation, with coverage of all the important topics in Biology, Chemistry, and Physics. These resources can help you learn everything you need to know, from the beginning right through to the end.
Here's a NEET Preparation table, which provides links to all the important courses & guidance documents to help you prepare for the NEET exam in an effective way, which would save your time and effort.
Table: NEET Preparation Material
| | |
| --- | --- |
| | |
| | |
| | |
| | |
| | |
| | |
| | |
| | |
| PPTs for NEET Preparation | |
EduRev offers a comprehensive package of EduRev Infinity for NEET which includes everything that an NEET aspirant would need for the Preparation.
How to Prepare for the NEET UG Exam with EduRev Infinity?
The EduRev Infinity Package for NEET is the ultimate package for students aspiring to crack the NEET exam. It provides you with all the resources you need to ace your NEET exams. It's designed to provide comprehensive and up-to-date study material, practice tests, and guidance from experts in the field.
Though EduRev Infinity is more about quality than quantity, if we have to put a number, you would get around 50+ EduRev courses, which includes 1000+ tests, 1500+ docs, and 800+ videos for courses of EduRev Infinity! So you won't have to worry about missing out on anything.
Some of the famous courses in the EduRev Infinity Package include:
And this is just the tip of the iceberg, any new course that is added under EduRev Infinity Package for NEET over the year will also be a part of the package, with detailed solutions with every question, higher preference for questions asked, early access to new features and upcoming deeper analysis are all a part of EduRev Infinity!
All the content offered on EduRev has been curated by the mentors of AIR 17 Priyaz Mishra, Supriya Senapati (360/360 in Biology) & other experts.
You can refer to this video which will help you to understand more about EduRev Infinity Package for NEET. Link to the video: What do you get for NEET under EduRev Infinity?
So don't miss out on this great opportunity - get the EduRev package and get ready to ace the NEET exam!
To read more about the topper's strategy for preparati on of NEET UG Exam, check out this EduRev document here. But EduRev didn't stop there; it also created a 150-day study schedule specifically for you, allowing you to finish the entire curriculum and take mock tests in just 150 days, or about 5 months.
After understanding all the tips and tricks from successful students and EduRev experts, it is helpful to hear from doctor Rinnie Brar who was able to achieve AIR 68. She will share her own strategies and insights that will help you in becoming a doctor.
Best Books for NEET Preparation
(a) Biology
SC Verma Biology books
Dinesh Objective Biology
Biology by GRB Bathla's Publications
Trueman's Biology – Vol 1 and Vol 2
Biology Books by Pradeep's Publications
(b) Chemistry
Physical Chemistry
Physical Chemistry by P. Bahadur
Physical Chemistry by O.P. Tandon
Organic chemistry
NCERT (Textbook) Chemistry – Class 11 & 12
Organic Chemistry Objective by Arihant (for practicing problems)
Organic Chemistry by O.P. Tandon
Organic Chemistry by Morrison and Boyd (For reaction mechanisms)
Inorganic chemistry
Concise Inorganic Chemistry (For Chemical Bonding, Atomic Structure and Coordination Chemistry)
Inorganic Chemistry by O.P. Tandon
(c) Physics
Objective Physics by Pramod Agarwal (For practising problems in mechanics and rotational dynamics)
D. C. Pandey Objective Physics
Problems in General Physics by I. E. Irodov
Fundamentals of Physics by Halliday, Resnick, and Walker (For optics, waves, and electromagnetism)
Concepts of Physics by H. C. Verma
EduRev offers NCERT textbooks (Physics, Chemistry and Biology) for NEET. You will get range of other famous books questions & solutions relevant for NEET on EduRev. Also, Summaries of the NCERT textbooks are available which is written in an easy-to-understand language and contain relevant diagrams and illustrations to help students with their preparation.
NEET Previous Years' Question Papers
There are several reasons why it is beneficial for students to attempt NEET previous year questions as part of their preparation for the exam:
Familiarity with the exam: Previous year questions can give students an idea of the types of questions that have been asked on the NEET exam in the past, and the format in which they were presented. This can help students to become more familiar with the exam and feel more comfortable on test day.
Attempt Previous Year Questions: There is no better guide than previous year's question papers when it comes to understanding the exam pattern. EduRev provides past year question papers, check them out here.
Testing knowledge: By attempting previous year questions, students can test their understanding of the material and identify any areas that they need to review.
Time Management and Speed: You must solve 180 questions in 3 hours & 20 minutes (200 minutes) and choose 180 questions from 200 questions according to the NEET exam pattern. You must achieve this speed in order to attempt the maximum number of questions on the exam day. Previous year's NEET question papers and mock tests are designed to be completed in three hours. Setting a timer while working on these will assist you in reaching this goal.
Predicting future questions: While the NEET exam changes from year to year, many of the concepts covered on the test remain consistent. By reviewing previous year questions, students may be able to predict which topics are more likely to appear on the upcoming exam.
EduRev is an online learning platform that offers NEET preparation courses, including a course of Previous Year NEET Questions with detailed solutions, tips and tricks, and questions sorted by topic.
NEET Mock Test 2024
Creating Realistic Conditions: Mock tests are important for preparing for the NEET exam because they provide students with an opportunity to practice taking the test under realistic conditions.
Analysing types of Questions: By taking mock tests, students can get a sense of the types of questions that will be on the exam, as well as the time constraints and overall test-taking experience.
More Effective Study: This can help students to identify areas of weakness and focus their studying more effectively.
Boost confidence: Practising questions make you confident and give a real picture of how much syllabus have you covered precisely.
Time Management: In the NEET exam, managing time is the most vital task and you can not overlook it. Practising mock tests make your time management skills stronger. You can practice mock tests on the EduRev platform.
EduRev's NEET Mock Test Series provides comprehensive questions and answers covering all required topics for the NEET exam. EduRev provides you All India Rank (AIR) & in-depth analysis after every test that you attempt. You also get to know the average time taken by the students across the country to attempt a particular question.
Also see what users say about EduRev infinity:
NEET Admit Card 2024
The admit card will be released in the 4th week of March 2024 through online mode. The admit card will contain the details such as exam date, venue, reporting time, etc. Candidates should keep a printout of the NEET UG admit card for further use.
Students can follow the steps provided below to check and how to download NTA NEET Admit Card 2024 once released: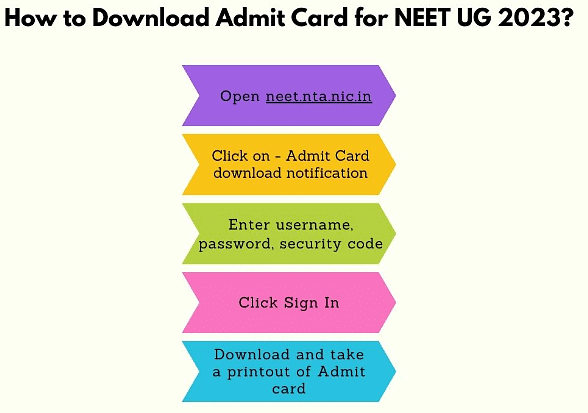 Open the official website of the exam - neet.nta.nic.in
Click on the NEET UG 2024 Admit Card download notification available on the homepage.
It will redirect you to the candidate login page.
Enter your username, password, security code and click on sign in.
Your NEET admit card will be displayed on the screen.
Download and take a printout of the same for further reference.
To know more, checkout the EduRev document of Admit Card, click here.
NEET UG Exam Day Guidelines
In Recent years, the NTA NEET exam has been scheduled for the hours of 2:00pm to 5:20pm, so it is recommended to arrive at the exam room by 1:00pm with only the NEET Admit card and a photograph as the only necessary documents.
Fingerprints will be taken on attendance sheet.
15 minutes before exam, candidates will be given booklet to fill in details.
Timings will be announced at the beginning, half-time, and end of exam by invigilators.
Sign answer sheet twice: once at beginning and once at end of exam.
Invigilator will provide ballpoint pen.
Check number of pages and ensure same code is on test booklet and answer sheet in allotted 5 minutes.
Fill in both sides of OMR answer sheet.
Ensure the test booklet comprises the same number of pages as stated on the cover of the booklet
Submit OMR sheet to invigilator before leaving exam hall (mandatory).
To know more, checkout the EduRev document of Exam Day guidelines, click here.


Documents Required for NEET at Exam Hall
Candidates must carry the following documents to the exam centre: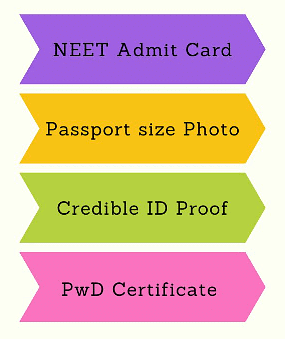 NEET Admit Card
Passport size photo (same as the uploaded on NEET Application form)
Credible ID proof
PwD certificate (on whomever applicable)
NEET Answer Key 2024
An answer key is a list of answers to the questions in a test or exam. It provides the correct answer for each question and allows students to estimate their scores on the exam.
The answer key is useful for helping students understand their performance on the test.
National Testing Agency (NTA) releases the official NEET answer keys on the official website in PDF format along with the OMR sheet.
A direct NEET official answer key 2024 download link will be provided on the official page.
With the help of the provisional answer key of NEET 2024 released by NTA, candidates will be able to cross-check their responses.
To checkout the previous year answer keys, EduRev is here to help you, click here
NEET UG Result 2024
The NEET (National Eligibility cum Entrance Test) result 2024 will be announced through online mode in the 1st week of June 2024
To get NEET Results candidates will be required to enter their login details like- roll number and date of birth on the official website.
The result will be prepared according to the revised answer key released by the authority. The authority will not prepare the result category-wise. Candidates can take the printout of their results after the declaration of it.
The NEET result will be considered by most of the medical colleges across the country for admission into UG programmes.
NEET UG Cutoff 2024 (Expected)
Based on previous year trends, EduRev experts have provided the category-wise NEET 2024 expected cut off.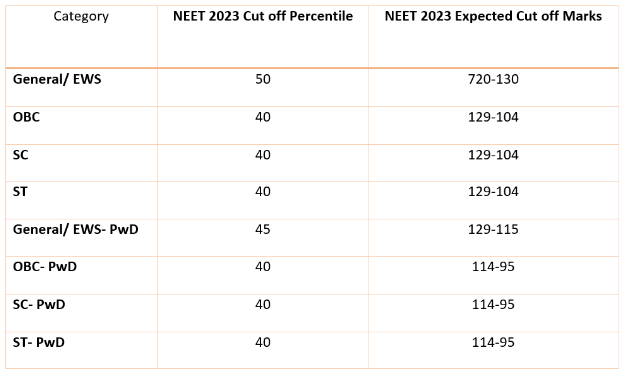 NEET UG Previous Year Cutoffs
To qualify for the NEET (National Eligibility cum Entrance Test) exam, aspirants need to secure the pass percentile and NEET 2024 cut off marks, as specified by NTA. For example, NEET 2022 cutoff for the General category is 50th percentile which means that aspirants from the same category need to secure equal to or more than 50% of the candidates who appeared for the NEET 2022 exam. Check the previous year's category-wise NEET cutoff and marks below.
(a) Cut-off 2022

(b) Cut-Off 2021, 2020, 2019

NEET Counselling 2024
NEET UG counselling is the process through which students are offered seats in medical and dental colleges based on their score on the NEET exam. The counselling process is conducted by the Directorate General of Health Services (DGHS) on behalf of the Medical Counseling Committee (MCC).
The counselling process typically involves the following steps: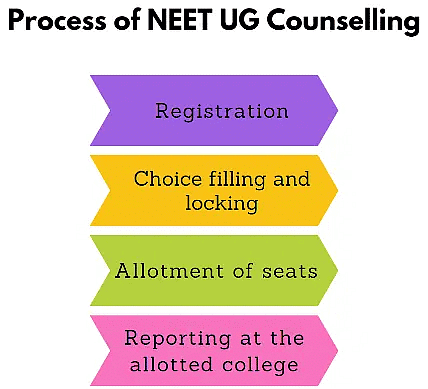 Registration: Students must register online in order to participate in counselling. This involves submitting personal and educational information, as well as payment of a counselling fee.
Choice filling and locking: After the registration process is complete, students must select the colleges and courses that they are interested in and lock their choices.
Allotment of seats: Based on the choices submitted by students and the availability of seats, the MCC will allot seats to students.
Reporting at the allotted college: Students who are allotted a seat must report to the allotted college in order to complete the admission process.
The counselling process may vary slightly from year to year, so it is important for students to stay informed about the specific procedures for the year in which they are applying.
To know more about the NEET UG Counselling, click here.
Documents required for NEET UG Counselling
To ensure candidates experience a smooth application form filling process for NEET 2024 counselling rounds, here are the documents that one should keep with them in advance.
Latest passport size photograph
Thumb impression of left & right hands fingers
Postcard size photographs (5 or 6 in number)
PwD certificate
Category certificate
Class 10 passed certificate
Class 10 marksheet
Class 12 passed certificate
Class 12 marksheet
Embassy/ Citizenship certificate
To know more about the Documents required, click over the given EduRev document, Documents Required during Registration, Exam Day & Counselling for NEET.
Q. What is the mode of the NEET 2024 exam?
NEET 2024 is a pen-paper test conducted in the offline mode wherein OMR sheets must be filled with answers

Q. Will NEET 2024 be conducted twice?
No. NEET shall be conducted once, annually.

Q. Is there any limit to the number of attempts for NEET exams?
Up till now, the maximum number of attempts was three in number. But from NEET 2020 onwards, there has been no such restriction on the number of attempts.

Candidates with age 17 years and above can attempt NEET, any number of times.

Q. Are there any changes in NEET 2024? If so, what are they?
Yes, the changes in NEET 2024 are –

(a) Increase In Application Fee
(b) Age Limit Removed
(c) Increase In Exam Duration
(d) Inclusion Of New Exam Cities
(e) Changes in exam pattern – Each subject has 2 sections – Section A (35 questions), Section B (15 questions). Any 10 questions can be attempted from Section B.

Read in detail about the changes in recent years.

Q. Who conducts NEET exams?
The NTA (National Testing Agency) is the regulatory body for NEET exams since the year 2019.

Q. Can I appear for NEET exams if I have a year gap between class 11 & 12?
Yes, you can appear for NEET exams with a year gap. The previously set out amendment by the MCI was revoked by Delhi High Court wherein now candidates with a gap of a year can appear for NEET.

Q. I have crossed 25 years of age, can I take up NEET?
Officials have uprooted the rule on the upper age limit, where there is no such cap now. Hence, candidates must meet the lower age limit of 17 years compulsorily, however, there is no restriction on the upper age limit. But, all other criteria should be met.

Start your preparation now by clicking here.

Q. What are the basic eligibility criteria for NEET 2024?
Candidates must ensure they meet the following criteria compulsorily:
(a) Must have attained 17 years of age as of December 31st of that year. If born on December 31st, that is also considered.
(b) Must have completed class 12 or equivalent exams from a centrally recognized or state board with major subjects being – Physics, Chemistry, Biology, and English
(c) Qualifying marks – general category – 50% and for SC/ST/OBC, it is 40%
(d) OCIs, PIOs, NRIs and foreign nationals can apply.

Read in detail about the Eligibility criteria for NEET.

Q. I studied Biology as an additional subject in 10+2, will I be permitted?
The study of Biology/Biotechnology as an Additional Subject at Class 12 level shall not be permissible.**Biology/Biotechnology as an additional subject shall be allowed but subject to the outcome of Special Leave Petitions/Appeals filed by the Medical Council of India.

Q. What is the application fee for NEET?
General category – 1600 rupees

General-EWS/ OBC-NCL – 1500 rupees

SC/ST/PwBD/Third Gender – 900 rupees

Outside India – ₹ 8500/ (Fee in rupees)

Processing charges & Goods and Services Tax (GST) are as applicable

Q. What is the mode of payment of the application fee?
Can be done through online mode, net banking, debit/credit cards or even UPI through SBI/Syndicate/ICICI/HDFC and even Paytm service providers.

Q. How to fill the NEET 2024 Application form?
Candidates must visit the official website to fill the NEET application form. However, EduRev is always here to guide you from filling your NEET application form till you go for Counselling.

Q. I made an online payment, but my confirmation page has not been generated yet?
This can be due to the bank server connectivity issue. If you face this issue, it is recommended to wait for at least 24 hours. If it is not yet generated, pay the fee once again and take a printout of the confirmation page. The excess amount will be refunded automatically into the same account from where the amount was remitted. Contact the bank if the issue still persists.

Q. When I was to submit my application form, my session was displayed as expired when I tried to submit it consequently the form was left unsubmitted. What to do?
Candidates must ensure that they submit the application form within a maximum time span of 30 minutes as the session expires immediately after 30 minutes. Save one part of the form as a draft and continue this similarly before starting a new one. This way, data is not lost. It is recommended to keep the required data handy before commencing.

Q. What is the proof for fee payment made to the NTA for NEET?
Generation of confirmation page means the fee is successfully paid. Details of the payment will be given in the bottom-most part of the confirmation page.

Q. How will I get proof of the fee paid to NTA for NEET?
After filling out the form, the appearance of the confirmation page indicates payment of the fee.

Q. Should I upload a photo with white background, date, and name at the bottom?
Previously it was compulsory to upload a passport size photo with a white background along with the date and name at the bottom of the picture. The latest official notification on the same indicates that officials have declared that photos without a name and date would also work. The photographs need not be attested.

The recent photograph should be either in colour or black and white with 80% face (without mask) visible including ears against a white background.

Q. Can I draw out my NEET application form and hence candidature? Would I get a refund?
Application once submitted cannot be drawn out. The application fee is not refundable.