Q.1. Receptors for sperm binding in mammals are present on: (2021)
(a) Perivitelline space
(b) Zona pellucida
(c) Corona radiata
(d) Vitelline membrane
Ans. (b)
Solution. The secretions of the acrosome help the sperm enter into the cytoplasm of the ovum through the zona pellucida and the plasma membrane.

Q.2. Which of the following secretes the hormone, relaxin, during the later phase of pregnancy? (2021)
(a) Foetus
(b) Uterus
(c) Graafian follicle
(d) Corpus luteum
Ans. (d)
Solution. In the later phase of pregnancy, a hormone called relaxin is also secreted by the ovary.

Q.3. Which of these is not an important component of initiation of parturition in humans? (2021)
(a) Release of Oxytocin
(b) Release of Prolactin
(c) Increase in estrogen and progesterone ratio
(d) Synthesis of prostaglandins
Ans. (b)
Solution.
This triggers release of oxytocin from the maternal pituitary.
Oxytocin acts on the uterine muscle and causes stronger uterine contractions, which in turn stimulates further secretion of oxytocin.
This leads to expulsion of the baby out of the uterus through the birth canal – parturition.
Q.4. Match the following columns and select the correct option (2020)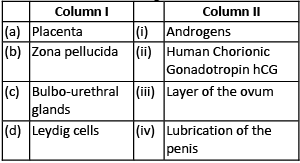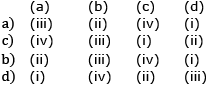 Ans. (b)
Solution.
(a) Placenta also acts as an endocrine tissue and produces several hormones like human chorionic gonadotropin (hCG), human placental lactogen (hPL), estrogens, progestogens, etc.
(b) The secondary oocyte forms a new membrane called zona pellucida surrounding it.
(c) The male accessory glands include paired seminal vesicles, a prostate and paired bulbourethral glands. Secretions of these glands constitute the seminal plasma which is rich in fructose, calcium and certain enzymes. he secretions of bulbourethral glands also helps in the lubrication of the penis.
(d) The regions outside the seminiferous tubules called interstitial spaces, contain small blood vessels and interstitial cells or Leydig cells Leydig cells synthesise and secrete testicular hormones called androgens.

Q.5. Meiotic division of the secondary oocyte is completed : (2020)
(a) After zygote formation
(b) At the time of fusion of a sperm with an ovum
(c) Prior to ovulation
(d) At the time of copulation
Ans. (b)
Solution.
When sperm enters into the secondary oocyte, it provides the anaphase promoting factor that induces the completion of meiosis in the secondary oocyte.

Q.6. Which of the following hormone levels will cause release of ovum (ovulation) from the graffian follicle? (2020)
(a) Low concentration of LH
(b) Low concentration of FSH
(c) High concentration of Estrogen
(d) High concentration of Progesterone
Ans. (c)
Solution.
LH (Leutenizing hormone) is produced by pituitary gland in the brain. It triggers ovulation & promotes the development of corpus luteum by rupture of graafian follicle. Which high concentration of estrogen is relesed by moture graafian follicle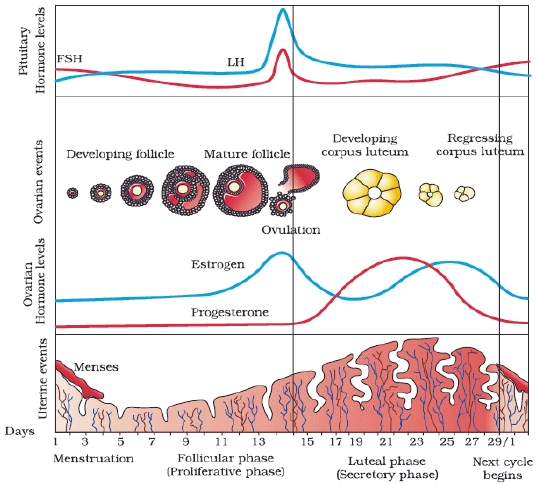 Q.7. Extrusion of second polar body from egg occurs (2019)
(a) Simultaneously with first cleavage
(b) After entry of sperm but before fertilisation
(c) After fertilisation
(d) Before entry of sperm into ovum.
Ans: (b)
Entry of sperm into the secondary oocyte induces the completion of the meiotic division of the secondary oocyte. The second meiotic division is unequal and results in the formation of a second polar body and a haploid ovum (ootid). Soon the haploid nucleus of the sperms and that of the ovum fuse together to form a diploid zygote.

Q.8. Select the correct sequence for transport of sperm cells in male reproductive system. (2019)
(a) Testis → Epididymis → Vasa efferentia Vas deferens → Ejaculatoiy duct → Inguinal canal → Urethra → Urethral meatus
(b) Testis → Epididymis → Vasa efferentia → Rete testis → Inguinal canal Urethra
(c) Seminiferous tubules → Rete testis → Vasa efferentia → Epididymis → Vas deferens → Ejaculatory duct → Urethra → Urethral meatus
(d) Seminiferous tubules → Vasa efferentia → Epididymis → Inguinal canal → Urethra
Ans: (c)

Q.9. No new follicles develop in the luteal phase of the menstrual cycle because (2019)
(a) Follicles do not remain in the ovary after ovulation
(b) FSH levels are high in the luteal phase
(c) LH levels are high in the luteal phase
(d) Both FSH and LH levels are low in the luteal phase.
Ans: (d)

Q.10. Hormones secreted by the placenta to maintain pregnancy are (2018)
(a) HCG, hPL, progestogens, prolactin
(b) HCG, hPL, estrogens, relaxin, oxytocin
(c) HCG, hPL, progestogens, estrogens
(d) HCG, progestogens, estrogens, glucocorticoids
Ans: (c)
Placenta is temporary organ that helps in exchange of gases, nutrients and waste materials between mother and fetus. During pregnancy, placenta acts as an endocrine gland and secretes some hormones such as estrogen, progesterone, human chorionic gonadotropin (hCG), human placenta] lactogen (hPL), chorionic thyrotropin, chorionic corticotropin and relaxin.

Q.11. The difference between spermiogenesis and spermiation is (2018)
(a) In spermiogenesis spermatids are formed, while in spermiation spermatozoa are formed
(b) In spermiogenesis spermatozoa are formed, while in spermiation spermatids are formed
(c) In spermiogenesis spermatozoa from Sertoli cells are released into the cavity of seminiferous tubules, while in spermiation spermatozoa are formed
(d) In spermiogenesis spermatozoa are formed, while in spermiation spermatozoa are released from Sertoli cells into the cavity of seminiferous tubules
Ans: (d)
Formation of spermatozoa from spermatids is called spermiogencsis. After spermiogenesis, sperm heads become embedded in the Sertoli cells and are finally released from the seminiferous tubules by the process called spermiation.

Q.12. The amnion of mammalian embryo is derived from (2018)
(a) Ectoderm and mesoderm
(b) Endoderm and mesoderm
(c) Mesoderm and trophoblast
(d) Ectoderm and endoderm.
Ans: (a)
Amnion, in reptiles, birds and mammals is a membrane forming a fluid-filled cavity (the amniotic sac) that encloses the embryo. During development the amnion arises by a folding of a mass of extra- embryonic tissue called the somatopleure. Lined with ectoderm and covered with mesoderm, the amnion contains a thin transparent fluid in which the embryo is suspended, thus providing a cushion against mechanical injury.

Q.13. Match the items given in column I with those in column II and select the correct option given below. (2018)
| | |
| --- | --- |
| Column I | Column II |
| A. Proliferative phase | (i) Breakdown of endometrial |
| B. Secretory phase | (ii) Follicular phase |
| C. Menstruation | (iii) Luteal phase |
| | | | |
| --- | --- | --- | --- |
| | A | B | C |
| (a) | (iii) | (ii) | (i) |
| (b) | (i) | (iii) | (ii) |
| (c) | (ii) | (iii) | (i) |
| (d) | (iii) | (i) | (ii) |
Ans: (c)

Q.14. Capacitation occurs in (2017)
(a) Epididymis
(b) Vas deferens
(c) Female reproductive tract
(d) Rete testis
Ans: (c)
The sperms in the female's genital tract are made capable of fertilising the egg by secretions of the female genital tract. These secretions remove coating substances deposited on the surface of the sperms particularly those on the acrosome Thus the receptor sites on the acrosome are exposed and sperm becomes active to penetrate the ego This phenomenon of sperm activation in mammals is known as capacitation.

Q.15. Which of the following depicts the correct pathway of transport of sperms? (2016)
(a) Rete testis → Efferent ductules → Epididymis → Vas deferens
(b) Rete testis → Epididymis → Efferent ductules → Vas deferens
(c) Rete testis → Vas deferens → Efferent ductules → Epididymis
(d) Efferent ductules → Rete testis → Vas deferens → Epididymis
Ans: (a)

Q.16. Match column I with column II and select the correct option using the codes given below. (2016)
| | |
| --- | --- |
| Column I | Column II |
| A. Mons pubis | (i) Embryo formation |
| B. Antrum | (ii) Sperm |
| C. Trophectoderm | (iii) Female external genitalia |
| D. Nebenkern | (iv) Graafian follicle |
(a) A-(iii), B-(iv), C-(ii), D-(i)
(b) A-(iii), B-(iv), C-(i), D-(ii)
(c) A-(iii), B-(i), C-(iv), D-(ii)
(d) A-(i), B-(iv), C-(iii), D-(ii)
Ans: (b)

Q.17. Several hormones like hCG, hPL, estrogen, progesterone are produced by (2016)
(a) Ovary
(b) Placenta
(c) Fallopian tube
(d) Pituitary
Ans: (b)
Placenta is temporary organ that helps in exchange of gases, nutrients and waste materials between mother and fetus. During pregnancy, placenta acts as an endocrine gland and secretes some hormones such as estrogen, progesterone, human chorionic gonadotropin (hCG), human placenta] lactogen (liPL), chorionic thyrotropin, chorionic corticotropin and relaxin.

Q.18. Changes in GnRH pulse frequency in females is controlled by circulating levels of (2016)
(a) Progesterone only
(b) Progesterone and inhibin
(c) Estrogen and progesterone
(d) Estrogen and inhibin.
Ans: (c)
GnRH is secreted by the hypothalamus which stimulates the anterior lobe of pituitary gland to secrete luteinising hormone (LH) and FSH FSH stimulates the growth of the ovarian follicles and stimulates the formation of estrogens. LH stimulates the corpus luteum to secrete progesterone. Rising levels of progesterone and estrogen inhibits the release of GnRH, which in mm, inhibits the production of FSH and LH.

Q.19. Fertilisation in humans is practically feasible only if (2016)
(a) The ovum and sperms are transported simultaneously to ampullary-isthmic junction of the cervix
(b) The sperms are transported into cervix within 48 hrs of release of ovum in uterus
(c) The sperms are transported into vagina just after the release of ovum in Fallopian tube
(d) The ovum and sperms are transported simultaneously to ampullary-isthmic junction of the Fallopian tube
Ans: (d)
The fusion of a haploid male gamate (sperm) and a haploid female gamete (0vum) to form a diploid zygote is called fertilisation. In human beings, it takes place in the ampullary isthmic junction of the oviduct (Fallopian tube).

Q.20. Select the incorrect statement. (2016)
(a) LH and FSH decrease gradually during the follicular phase.
(b) LH triggers secretion of androgens from the Leydig cells.
(c) FSH stimulates the Sertoli cells which help in spermiogenesis.
(d) LH triggers ovulation in ovary.
Ans: (a)
During follicular phase FSH secretion increases. Follicular phase (proliferative phase) usually includes cycle days 6-13 or 14 in a 28 days cycle. The follicle stimulating hormone (FSH) secreted by the anterior lobe of the pituitary gland stimulates the ovarian follicle to secrete estrogens.

Q.21. Identify the correct statement on 'inhibin'. (2016)
(a) Is produced by granulosa cells in ovary and inhibits the secretion of LH
(b) Is produced by nurse cells in testes and inhibits the secretion of LH
(c) Inhibits the secretion of LH, FSH and prolactin
(d) Is produced by granulosa cells in ovary and inhibits the secretion of FSH
Ans: (d)