NEET 2020: There were no questions in NEET 2020 from this chapter.
Q.1. In sonic plants, the female gamete develops into embryo without fertilisation. This phenomenon known as [ NEET 2019]
(a) Parthenogenesis
(b) Autogamy
(c) Parthenocarpy
(d) Syngamy
Ans. (a)
Solution:
Parthenogenesis is the spontaneous development of an embryo from an unfertilised egg cell, It naturally occurs in variety of plants, where parthenogenesis usually is found in combination with apomeiosis (the omission of meiosis) and pseudogamous (with or without central cell fertilisation) endosperm formation, together known as apomixis (clonal seed production).
Parthenocarpy is development of fruit without fertilisation.
Q.2. Offsets are produced by [ NEET 2018]
(a) Meiotic divisions
(b) Mitotic divisions
(c) Parthenocarpy
(d) Parthenogenesis
Ans. (b)
Solution:
Offset is a vegetative part of a plant formed by mitosis.
Meiotic division occurs in reproductive organs during formation of gametes.
Parthenogenesis is the formation of embryo from ovum or egg without fertilisation.
Parthenocarpy is the fruit formed without fertilisation.
Q.3. Which of the following flowers only once in its lifetime? [ NEET 2018]
(a) Bamboo Species
(b) Jackfruit
(c) Mango
(d) Papaya
Ans. (a)
Solution: Certain bamboo species are monocarpic, i.e., flower generally only once in their lifetime (after 50-100 years). Other plants (jackfruit, mango and papaya) are polycarpic, i.e., produce flowers and its many times during their lifetime.

Q.4. Which one of the following statements is not correct? [NEET 2016]
(a) Offspring produced by the asexual reproduction are called clone.
(b) Microscopic, motile, asexual reproductive structures are called zoospores.
(c) In potato, banana and ginger, the plantlets arise from the internodes present in the modified stem.
(d) Water hyacinth, growing in the standing water, drains oxygen from water that leads to the death of fishes.
Ans. (c)
Solution: Potato, banana and ginger Propagate Vegetatively by their modified stems. Potato propagates by tuber which has buds over its eyes or nodes. These buds produce new plantlets. Banana and ginger propagate with the help of rhizomes which also have buds on nodes for the formation of new plantlets.

Q.5. Which one of the following generates new genetic combinations leading to variation? [NEET 2016]
(a) Vegetative reproduction
(b) Parthenogenesis
(c) Sexual reproduction
(d) Nucellar polyembryony
Ans. (c)
Solution:
Sexual reproduction involves formation and fusion of male and female gametes.
Gamete formation is accomplished through meiotic cell division which involves crossing over between non-sister chromatids of homologous chromosomes leading to new genetic recombination in gametes.
Random fusion of these male and female gametes lead to the genetic variability in the offspring which although resemble their parents but also exhibit new traits of their own.
Q.6. Match column I with column II and select correct option using the codes given below. [NEET 2016]


(a) A-(iv), B-(iii), C-(i), D-(ii)
(b) A-(ii), B-(i), C-(iv), D-(iii)
(c) A-(i), B-(ii). C-(iv), D-(iii)
(d) A-(iii), B-(i), C-(iv), D-(ii)
Ans. (d)

Q.7. Seed formation without fertilization in flowering plants involves the process of: [ NEET 2016]
(a) Sporulation
(b) Budding
(c) Somatic hybridization
(d) Apomixis
Ans. (d)
Solution: Apomixis (asexual seed formation) is the result of a plant gaining the ability to bypass the most fundamental aspects of sexual reproduction: meiosis and fertilization.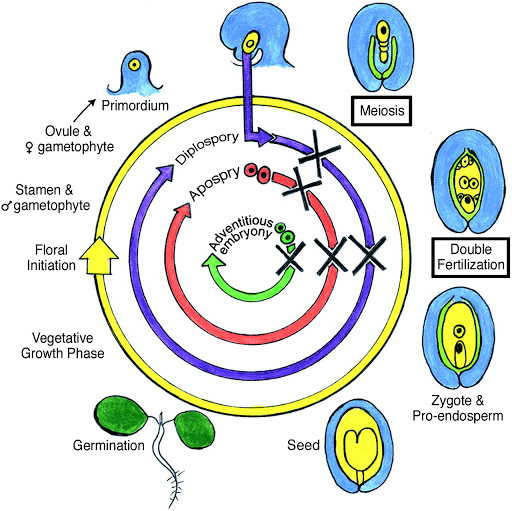 Apomixis
Without the need for male fertilization, the resulting seed germinates a plant that develops as a maternal clone.