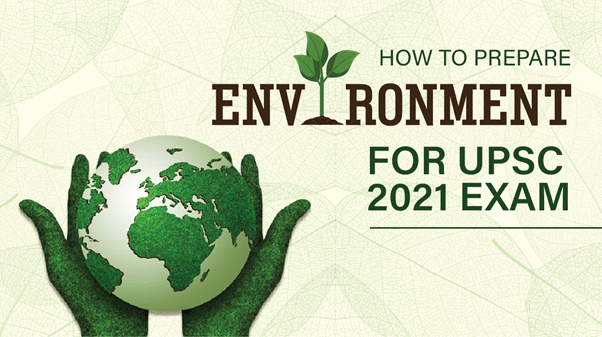 Importance of Environment as a subject
Environment is included in the GS III paper in UPSC CS (Main) and in General Studies in Prelims. Since 2013, the Prelims for Indian Forest Services is combined with the UPSC Civil Services, which is why the weightage of the environment topic has increased. At times, as many as 33% of the questions in the General Studies paper are asked from the environment topic, hence it is important to prepare it extremely well.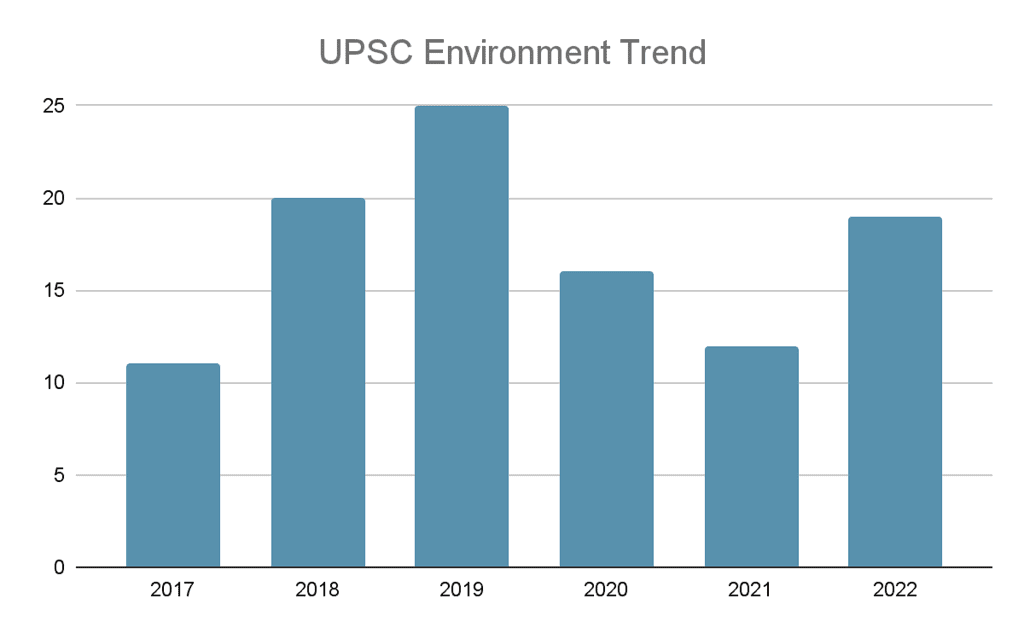 Secondly, issues like global warming and climate change have become some of the most major issues of the 21st century, hence, a thorough knowledge in this area would enable the potential bureaucrats to ensure they are able to implement their knowledge in policymaking.
In the UPSC Prelims, at least 15 – 20 questions can be linked to the environment section directly or indirectly.
In the UPSC Mains, you can expect 2 – 3 questions from this section. And, also in other subjects, a good knowledge of environmental concepts can help you write better answers.
Even in the IAS Interview, questions are asked from the environmental angle.
How to Prepare for Environment & Ecology
The teachers of EduRev, who have mentored thousands of students in the last 3-years, including Anudeep Durishetty AIR 1 UPSC CSE 2017, Monica Kishore AIR 41 2018, Swati Sharma AIR 18 2019 & others, and found one thing that was common among all the toppers is the strategy that they had to prepare for the exam. So, keeping that in mind, we wish to provide you with relevant information as a UPSC Aspirant, helping you to devise your strategy, which would save tonnes of your valuable and limited time and ensure that you get great marks in the exam by studying what actually matters in the preparation.
Step 1: Understand the Syllabus of Environment & Ecology
There is no defined syllabus for environment and biodiversity and aspirants have to limit and keep their preparation concise under proper guidance so that they are able to cover topics that are of maximum importance and weightage.Let us first check what the UPSC syllabus tells about this section:
1. UPSC Prelims: General issues on Environmental Ecology, Biodiversity and Climate Change – that do not require subject specialization General Science.
2. UPSC Mains: Paper-III General Studies-III 250 Marks (Technology, Economic Development, Bio-diversity, Environment, Security and Disaster Management)
EduRev team has explained the topics for your understanding researching from previous year papers & best books recommended by the toppers:
1. Conservation: What is Biodiversity?; Types of Biodiversity – Genetic, Species, Ecosystem, etc.; Importance of Biodiversity – Ecosystem Services, BioResources of Economic Importance, Social Benefits, etc.; Reasons for Loss of Biodiversity Conservation: In-situ & Ex-Situ; Eco-Sensitive Areas; Ecological Hotspots; National Guidelines, Legislations & Other Programmes; International Agreements & Groupings.
2. Environmental Pollution & Degradation: Types of Pollution & Pollutants; Impact of Pollution & Degradation; Ozone Layer Depletion and Ozone Hole; Greenhouse Gas Effect & Global Warming; Eutrophication; Desertification; Acid Rain Hazardous Waste, etc.; Causes/Sources of Pollution & Degradation; Prevention & Control of Pollution & Degradation; National Environment Agencies, Legislations and Policies; International Environment Agencies & Agreements.
3. Environmental Impact Assessment (EIA): What is EIA?; Indian Guidelines & Legislations; EIA Process; Need & Benefits of EIA; Shortcomings of EIA in India; Measures to Make EIA Effective.
4. Disaster Management: Types of Disasters; Management of Disasters; Community Level Disaster Management; Government Initiatives on Disaster Management
Step 2: Analyze Previous Year Questions (PYQs)
Once you're through the syllabus, pick up the previous year's papers and skim through them to get an understanding of what is actually asked in the exam.
Solving previous year prelims question papers can aid a candidate in understanding the nature of questions and prepare accordingly.
Look for the source that gives topic-wise questions of previous years. So that you can have a complete understanding of each topic and the type of questions asked.
You can get the last 10-years of UPSC Prelims & Mains papers from here - UPSC Previous Year Question Papers
You can also refer to the topic-wise questions of Environment & Ecology from the last 25-years here.
Step 3: Build your Foundation: NCERTs
The last four chapters from the Class 12 NCERT biology book cover all the basic and foundational level concepts concisely. So, reading them would introduce you to some terms that can come in the exam. You can access all NCERT textbooks here.
You can go for Environment-related chapters in the NCERT Geography book for the 6th-10th standard and can find all NCERT Textbooks arranged chapter-wise in NCERT Textbooks Class 6 to Class 12 course on EduRev.
Step 4: Read Important Reference Books: Shankar IAS Book/Notes
Shankar IAS Notes on Environment covers the static portion and the basic concepts in a concise way.
Treat it as a base material and cover concepts from it.
EduRev provides summaries & MCQ tests of Shankar IAS notes, you can find them here.
Step 5: Perfect Your Concepts through Video Lectures & Detailed Notes.
Once you've studied all the mentioned books, you should refer to a single source of notes & video lectures which will help you to strengthen the concepts and understand the same topic from a different perspective.
This will give you a fair idea of Environment subject and will help you to keep things in mind for a longer period of time.
Regular revisions through notes and video lectures can help strengthen the basics and boost one's confidence in the subject. You can get topic-wise notes & video lectures in the Geography course on EduRev, available on this link.
Step 6: Attempt Topicwise Tests

MCQ Tests on all the topics (& sub-topics) of Geography subject are helpful for clear understanding, proper practice, and quick revision. These tests will help you in self-evaluation and you can check, whether you've understood a topic completely.
Attempting Topicwise Tests will give you a fair idea about the type of questions being asked in recent years. It will also help you in revising effectively and efficiently.
You can get topic-wise tests in the Environment course on EduRev, available on this link.
You can get previous year's papers of UPSC Prelims & Mains here.
You can get questions from the last 25-years of UPSC prelims are arranged topic-wise here.
Step 7: Focus on Newspapers, Magazines & Current Affairs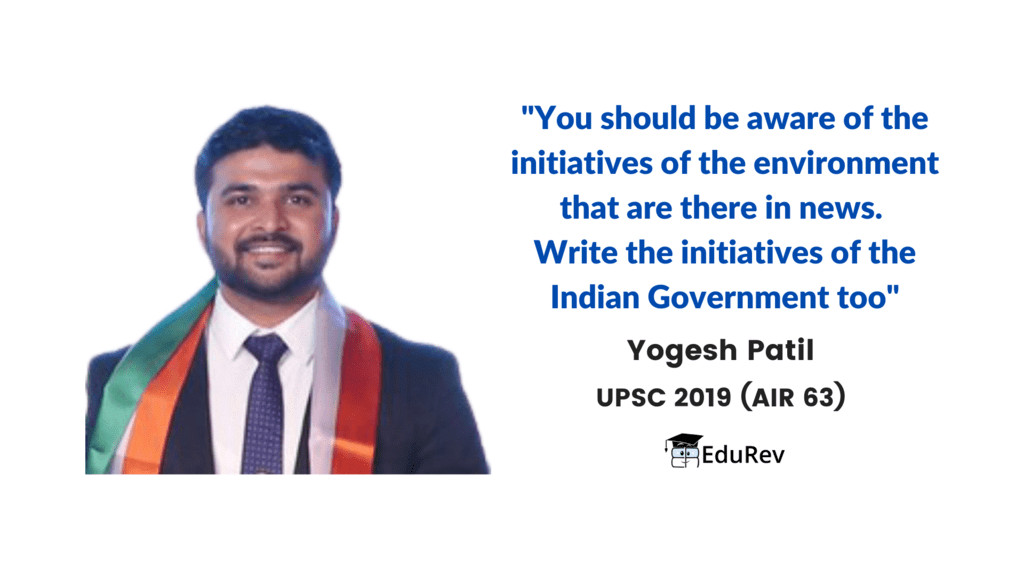 Current affairs are another important area with respect to environment and ecology topics.
You can go through current Affairs from the monthly & weekly compilation to study the recent updates related to the environment & ecology, which you can easily find

here.

Check the Ministry of Environment website periodically to stay updated with the latest schemes and policies and cover those programs that are in news currently.
Read editorials from the Hindu and articles from monthly magazines like Monthly Yojana Magazine (English) and Kurukshetra and prepare notes from them. Next, keep revising them to retain the concepts.
Try to relate current with Shankar IAS notes. Stay updated with current affairs from

Current Affairs & Hindu Analysis: Daily, Weekly & Monthly

course on EduRev.
Step 8: Improve Your Understanding by Answer Writing
As the pattern of the paper is evolving the candidate's horizontal expansion of the knowledge as well as the vertical limit of understanding of the topic is expected in a balanced proportion.
There are a number of political events happening around the year and the candidates have to take a close watch on the current political scenario and the pending bills in the Parliament and recommend monthly current affairs for better understanding on the same.
The candidates should keep a tab on the currently passed Acts and also on the pending Acts in the Parliament.
EduRev's course on Essays provides you with sample essays to help you understand the pattern of essays.
Step 9: Attempt Mock Tests of Environment & Ecology
Attempt mock tests to understand your level of preparation and for self-evaluation. You can find subject-wise mock tests of Environment & Ecology in the UPSC CSE Prelims Mock Test Series.
EduRev has provided all the study material & tests which matters in your preparation for UPSC, compiled under multiple courses. You can refer to this document "How to study Environment for UPSC using the EduRev app?" to understand it better & ace the exam smartly.
Tips
Here are some tips for studying Environment & Ecology for UPSC-CSE:
Start early. The UPSC-CSE is a competitive exam, so it is important to start studying early. This will give you enough time to cover all of the important topics and to get a good understanding of the material.
Don't be afraid to ask for help. If you are struggling with a particular topic, don't be afraid to ask for help from a tutor, friend, or family member. There are also many online resources that can provide you with assistance.
Stay focused. Studying for the UPSC-CSE can be challenging, but it is important to stay focused. Set realistic goals for yourself and don't give up.
Believe in yourself. With hard work and dedication, you can achieve your goal of clearing the UPSC-CSE.
Other Important Links
1. EduRev also offers a course with summaries & MCQ Tests for the famous reference book including Shankar IAS for Environment.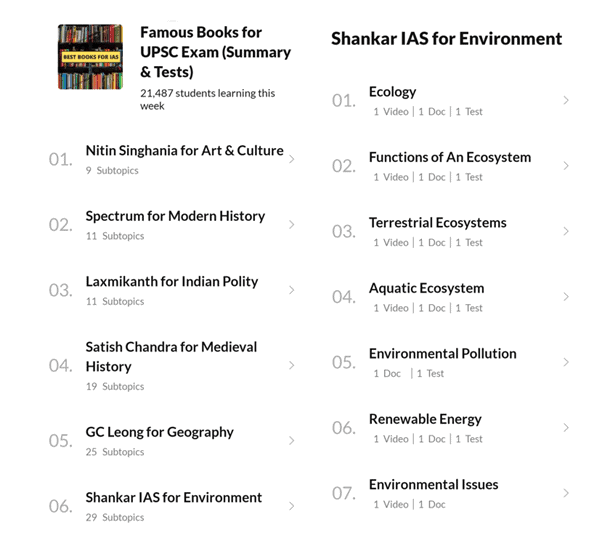 2. Check-Out subject wise Syllabus, Booklist & Strategy from these links:
Happy Learning with EduRev!