Every candidate who is appearing for NEET feels that the Biology section is their strength. Why then do some score more than the others? The reason is the preparation strategy for NEET Biology.
Those appearing for the National Eligibility cum Entrance Test (NEET) are no strangers to the fact that the Biology section of this examination is the most scoring. With 90 questions, the NEET Biology section constitutes 50 percent of the question paper. Also, due to the theoretical nature of the subject, it is easier to score high in NEET Biology. So, how to prepare and boost your preparation for the Biology section of NEET 2022?

Here are a few insights into the exam pattern as well as some key points that can help students to give an edge to their preparation plan.
Step 1: Understand the NEET Biology Exam Pattern and Syllabus

(i) Class 11
(ii) Class 12
Step 2: Strategize and focus on topics with high weightage
While studying Biology for NEET you should be aware that the Biology syllabus is extensive and requires in-depth knowledge.
It is advised to split the syllabus for biology into 3 parts, for easy preparation. Generally, the question types for the exam will be from three types of chapters, they are:
Must-Do: It includes questions from topics such as Animal Respiration, Reproduction & Development, Animal Nutrition, Animal Tissues, Biotechnology, Ecology and more.
Do Only if you have sufficient time: This section includes chapters like the Anatomy of Flowering Plants, Animal Kingdom from Porifera to Echinoderms, Microbes and Origin of Life, Growth Repair, and Regeneration, Biodiversity etc.
Do or Die: The category covers important topics like Photosynthesis, Cell Structure, Plant Morphology, Plant Nutrition, Genetics, Monera, Plant Kingdom, and many others.
NEET Biology Weightage
You should focus on preparing for topics with high weightage as these can help you score more marks. Additionally, it will help save time for revision and strengthen your preparation for most important chapters.
Botany




Genetics and Evolution
Weightage = 21.28%




The very necessity of studying this part is because of the weightage that this unit carries.

Ecology and Environment
Weightage = 19.15%

Since Ecology and Environment is second highest in terms of weightage, a thorough understanding of the chapter is essential.

Plant Physiology
Weightage = 17.02%

The weightage given to the segment is not something one can ignore, so that makes this unit very vital.



Cell Structure & Function
Weightage = 14.89%

A cell is the most fundamental unit of life and so its study is very intriguing. Along with this, the weightage of the unit makes this segment important.

Sexual Reproduction in Flowering Plants Weightage = 8.51%


This segment deals with the important process of reproduction in the plants. As plants are the ultimate providers of food to all organisms, their continuity on the earth is of utmost importance. So, this makes the unit worth studying.



Zoology

Human Physiology
Weightage = 27.91%

The study of the function of the human body is known as

Human Physiology

and it's natural to find the topic intriguing.




From the exam perspective also, this segment comprises the maximum percentage of weightage.



Biology and Human Welfare
Weightage = 18.60%

The topics are of general interest and make us aware of how biology can be used for the welfare of mankind. A considerable weightage in the exams also makes it essential to study.

Reproduction
Weightage = 13.95%

Reproduction is an interesting topic as it involves the processes right from conception to the birth of human beings. The topic carries a substantial weightage as well.

Biotechnology
Weightage = 11.63%


Biotechnology is basically the application branch of biology, so it is interesting and informative. The technological aspect of Biology is catered to through biotechnological tools. A substantial weightage is also a factor that makes the study of this segment crucial.



Biomolecules
Weightage = 9.30%

Understanding the highly essential molecules that make up the body is vital for the functioning of the body and also for NEET's prep.


Although you should cover all the topics given in syllabus, but emphasizing more on important chapters according to weightage will give you better results.
Step 3: Read & re-read NCERT and build your concepts.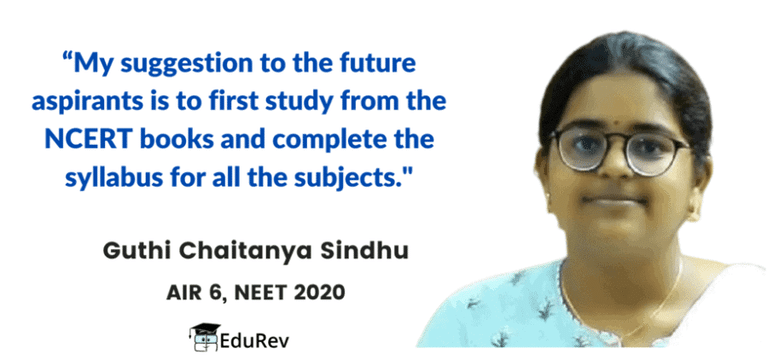 Read NCERT because it is a well-organized book that contains everything needed for the exam. Before moving on to another book, you should finish all of NCERT biology's chapters. You can find NCERTs of all chapters in EduRev also, Click here.
Also, it is important to divide your time for different chapters of NCERT, it will help you to manage time better and stop you from wasting your time while reading.
Understand each and every line written in the textbook; NEET questions are framed from single lines of NCERT; draw inferences from each and every line. NCERT is responsible for nearly 98-99 percent of the Biology syllabus.

Write extra content or questions in margins within the NCERT so that doing revision will be easy.

The biology NCERT summary is important from the exam point of view.

NCERT biology exemplar questions and Exercise questions (with solutions) are given on the Edurev Platform, refer to Class 11th Biology and Class 12th Biology courses.

Tables and examples given in the biology NCERT book are important and must be practiced.

Step 4: Focus on Diagrams & Conceptual Clarity
To ace NEET Biology, conceptual clarity is a must. While revising your chapters, develop an understanding of the concepts first and then apply those concepts to problems. Moreover, deep understanding of the topic can help you master it with ease.
Step 5: Practice: NEET PYQs, Topic-wise tests, Chapter wise tests
While studying for the NEET Biology exam, you must develop the habit of putting in a lot of practice time. The theory's concepts can only be implemented through practice.
Step 6: Take up Mock tests & attempt Practice Test Series
For checking the level of your preparation you should start attempting mock tests, even if your preparation is completed just for one subject, you should start attempting subject mocks. EduRev provides you with Biology subject mocks for your excellent practice in Biology.
When you are attempting complete mocks, you will start learning management of time as well as the discipline to sit straight for 3 hours. For complete mocks Click here.
As Biology is a scoring subject and by the good attempt, you will get a 360+ overall score without a doubt, for which it is a must practice more and more mocks and that will give you familiarity with the questions in biology.
You must mark the important and tricky questions while attempting the mocks and go back to them from time to time.
You must give lots of previous year question papers so that you will get yourself inlined with the pattern and type of questions coming in NEET Biology. You can find previous 10 years' questions papers on the EduRev platform, Click here. As well as you will find Biology PYQs of 31 years on our platform, click here.
Step 7: Revise Consistently
You should keep revising at regular intervals to reap the full benefits of studying and practising NEET Biology. This ensures that the information learned remains fresh in the mind.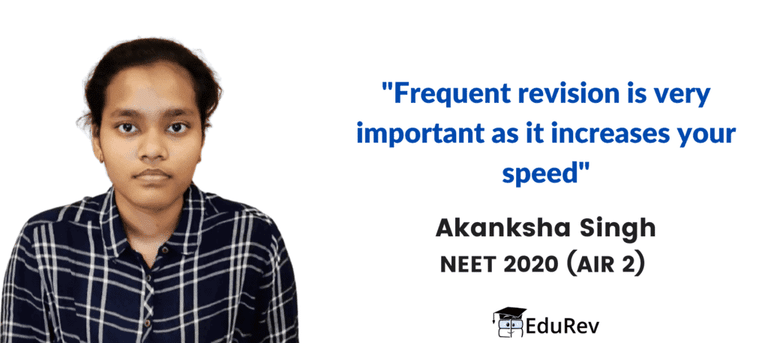 NCERT biology revision must be done from around 20-25 times.

You can revise notes from the EduRev course of Class 11th Biology and Class 12th Biology which is entirely based on NCERT.

Write extra content or questions in margins within the NCERT so that revision must be done easily.

Do frequent revision of your own notes many times.

While revising if you encounter doubts, do clear them and don't move forward before that.

The revision will help you in understanding and retaining the concept in mind more and more.

For revising the notes, EduRev provides you with short revision notes of biology that too completely based on NCERT, for revising Click here.

The best revision is through by giving Subject wise tests, topic-wise tests, Part tests & Full Mock Tests. EduRev provides all these tests for you to revise excellently.

You must mark the important and tricky questions while attempting the mocks, go back to them and revise.
Additional Information
1. Overall Understanding of the Exam
Check out these documents and prepare your strategy for NEET accordingly
2. Check out Subjectwise Strategies