Every candidate who is appearing for NEET feels that the Biology section is their strength. Why then do some score more than the others? The reason is the preparation strategy for NEET Biology.
Those appearing for the National Eligibility cum Entrance Test (NEET) are no strangers to the fact that the biology section of this examination is the most scoring. With 90 questions, the NEET Biology section constitutes 50 percent of the question paper. Also, due to the theoretical nature of the subject, it is easier to score high in NEET Biology. So, how to prepare and boost your preparation for the Biology section of NEET 2022?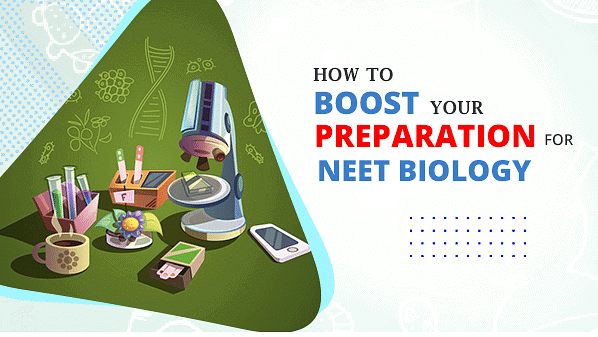 Here are a few insights into the exam pattern as well as some key points that can help students to give an edge to their preparation plan.

Step 1: Understand the NEET Biology Exam Pattern and Syllabus


(i) Class 11
(ii) Class 12
Go through the detailed topic-wise syllabus of biology for NEET through this doc: NEET Revised Syllabus 2024: Topic-wise Details & Important Chapters
Step 2: Read & re-read NCERT and build your concepts.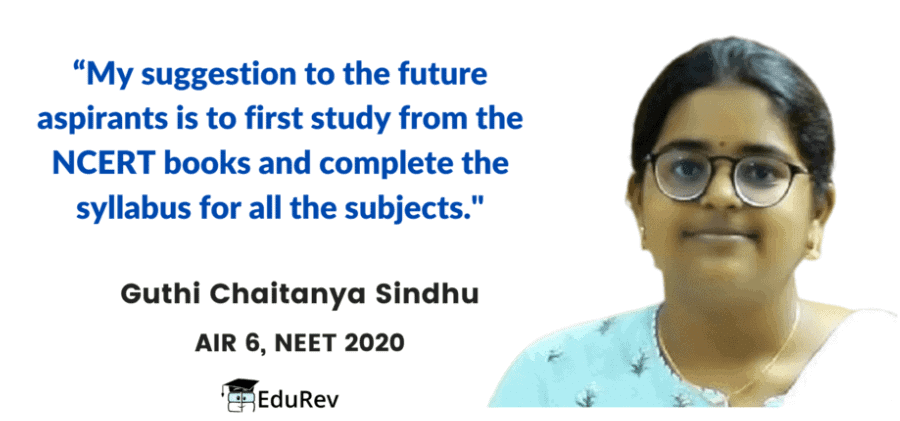 Read NCERT before studying the chapter from video lecture: Before starting any chapter, first read it from the textbook. Even if you're left with countless confusions, don't worry, just read it through once. And After you have completed the chapter from the video lecture, go back and read the textbook again. This simple approach will work wonders in clearing your doubts and solidifying your understanding of the topic at hand. Also, Edurev has made it easier for you to access all the NCERTs for Biology by compiling them for each and every chapter. This way, you won't have to spend time searching for the book all over the place.
Understand the Concept: Attend lectures by your teachers or you can watch video lectures from EduRev. This will help you understand the concepts better and clarify any doubts you may have.
Each and every line of NCERT is important: Read each and every single line of the textbook and highlight the most important lines.

No Doubts should be left behind: If you have uncertainty or confusion regarding even a single sentence, it is important to ask your teachers or you can ask in EduRev discussion forum. Don't hesitate to ask, clearing your doubts will help you build a strong foundation in the subject.
Elaborate the flowcharts: Condense flowcharts into paragraphs. Biology is a visual subject, and flowcharts are a great way to understand complex processes. However, it's important to condense them into paragraphs to help you remember the details.
Keep a Keen eye on Numerical values: Having a good understanding of the numerical values given in the textbook is extremely important for acing the NEET exam.
For example, in the Human Reproduction chapter, on the second page of the textbook, it is stated that each testis contains 250 lobules. However, it is possible that the NTA may ask a question that requires you to calculate the number of lobules in a pair of testis. In such a situation, you would need to calculate the number of lobules to be 500, and not 250.
To ensure you don't get confused in the exam, it is beneficial to make a note in your textbook and calculate the number of lobules in a pair of testis beforehand. This small habit of double-checking the numerical values can make all the difference in acing the NEET exam, these things are very little to notice that's why NEET is one of the toughest exam.
Simplify your NCERT: Use sticky notes, color pens, highlighters to simplify your textbook. These tools can help you organize your notes and make important concepts stand out. Simplifying your textbook will help you remember important details.
Understand the Processes given in NCERT: It is important to understand all the processes of NCERT in detail before attempting to memorize them. For instance, if you are studying the Krebs cycle as given in the textbook, memorizing it would be of no use if you were to answer a question such as 'How many substrate level phosphorylations occur in one cycle of Krebs?' which was asked in the previous year NEET exam.


Kreb's Cycle

To be able to answer this type of question, you must have a thorough understanding of the terms used in the Krebs cycle. Simply memorizing the material will not be enough.
Don't Skip NCERT Summary: Many NEET aspirants overlook the summaries from the textbook, however, a lot of questions in the past have been asked from them. For example, in the chapter on Human Reproduction, the significance of three hormones - cortisol, estrogen and oxytocin - are outlined in the summary, while the main content only mentions the importance of cortisol.
Consequently, if such questions come up in the NEET exam, some may think that the questions are not from the NCERT, which is not correct.
Solve NCERT Exercises: Some of the exercise questions may require you to answer questions which cannot be found directly from the text. For such questions, you should seek assistance from your teachers.
Remember Examples: NCERT contains so many examples that you need to remember. Like the examples given in Morphology of Flowering Plants, it is recommended to make a list of them and create mnemonics to help with memorization. This is the most effective way to remember the information and recall it during exams.
Strictly NCERT oriented Short Notes: It is compulsory to make your own notes which should be strictly NCERT oriented & make sure to include all the keywords. This is because questions in the NEET exam are based on these keywords and if you can recall them quickly, you should be able to finish the paper in the allotted time.
Solve NCERT based MCQs & PYQs: If you keep on studying the chapter notes repeatedly, it can become tiresome. To remember the topics better and to keep yourself motivated, it is suggested that you solve the NCERT based questions and PYQs shortly after completing the chapter, you can practice these PYQs and NCERT based questions from EduRev. This will help you understand the level of your preparation and whether you need to further upgrade it.
A common misconception among NEET Aspirants


While it's true that most of the questions on the exam come from the NCERT textbooks, but some questions may be harder for students to answer as they find it challenging to recognize that these are from the NCERT books. This could be because they have only gone through the book 2-3 times only. But if you have gone to the depth of the book you might have the idea that its just a tough question but it is from NCERT only.

So, it is important that: by the time of the D-day, you should have gone over the NCERT enough number of times to ensure that you are confident that you have thoroughly absorbed and understood all the content of NCERT biology line by line.
Step 3: Strategize and focus on topics with high weightage
While studying Biology for NEET you should be aware that the Biology syllabus is extensive and requires in-depth knowledge.It is advised to split the syllabus for biology into 3 parts, for easy preparation. Generally, the question types for the exam will be from three types of chapters, they are:
Must-Do: It includes questions from topics such as Animal Respiration, Reproduction & Development, Animal Nutrition, Animal Tissues, Biotechnology, Ecology and more.
Do Only if you have sufficient time: This section includes chapters like the Anatomy of Flowering Plants, Animal Kingdom from Porifera to Echinoderms, Microbes and Origin of Life, Growth Repair, and Regeneration, Biodiversity etc.
Do or Die: The category covers important topics like Photosynthesis, Cell Structure, Plant Morphology, Plant Nutrition, Genetics, Monera, Plant Kingdom, and many others.
NEET Biology Weightage
You should focus on preparing for topics with high weightage as these can help you score more marks. Additionally, it will help save time for revision and strengthen your preparation for most important chapters.
Botany



Genetics and Evolution
Weightage = 21.28%




The very necessity of studying this part is because of the weightage that this unit carries.

Ecology and Environment
Weightage = 19.15%

Since Ecology and Environment is second highest in terms of weightage, a thorough understanding of the chapter is essential.

Plant Physiology
Weightage = 17.02%

The weightage given to the segment is not something one can ignore, so that makes this unit very vital.

Cell Structure & Function
Weightage = 14.89%
A cell is the most fundamental unit of life and so its study is very intriguing. Along with this, the weightage of the unit makes this segment important.
Sexual Reproduction in Flowering Plants Weightage = 8.51%

This segment deals with the important process of reproduction in the plants. As plants are the ultimate providers of food to all organisms, their continuity on the earth is of utmost importance. So, this makes the unit worth studying.

Zoology

Human Physiology
Weightage = 27.91%

The study of the function of the human body is known as

Human Physiology

and it's natural to find the topic intriguing.




From the exam perspective also, this segment comprises the maximum percentage of weightage.

Biology and Human Welfare
Weightage = 18.60%
The topics are of general interest and make us aware of how biology can be used for the welfare of mankind. A considerable weightage in the exams also makes it essential to study.
Reproduction
Weightage = 13.95%
Reproduction is an interesting topic as it involves the processes right from conception to the birth of human beings. The topic carries a substantial weightage as well.
Biotechnology
Weightage = 11.63%

Biotechnology is basically the application branch of biology, so it is interesting and informative. The technological aspect of Biology is catered to through biotechnological tools. A substantial weightage is also a factor that makes the study of this segment crucial.

Biomolecules
Weightage = 9.30%
Understanding the highly essential molecules that make up the body is vital for the functioning of the body and also for NEET's prep.
Top 10 Chapters in Recent Years



Although you should cover all the topics given in syllabus, but emphasizing more on important chapters according to weightage will give you better results.
Step 4: Focus on Diagrams & Conceptual Clarity


To ace NEET Biology, conceptual clarity is a must. While revising your chapters, develop an understanding of the concepts first and then apply those concepts to problems. Moreover, deep understanding of the topic can help you master it with ease.
Step 5: Practice: NEET PYQs, Topic-wise tests, Chapter wise tests
While studying for the NEET Biology exam, you must develop the habit of putting in a lot of practice time. The theory's concepts can only be implemented through practice.
Step 6: Take up Mock tests & attempt Practice Test Series
For checking the level of your preparation you should start attempting mock tests, even if your preparation is completed just for one subject, you should start attempting subject mocks. EduRev provides you with Biology subject mocks for your excellent practice in Biology.
When you are attempting complete mocks, you will start learning management of time as well as the discipline to sit straight for 3 hours. For complete mocks Click here.
As Biology is a scoring subject and by the good attempt, you will get a 360+ overall score without a doubt, for which it is a must practice more and more mocks and that will give you familiarity with the questions in biology.
You must mark the important and tricky questions while attempting the mocks and go back to them from time to time.
You must give lots of previous year question papers so that you will get yourself inlined with the pattern and type of questions coming in NEET Biology. You can find previous 10 years' questions papers on the EduRev platform, Click here. As well as you will find Biology PYQs of 31 years on our platform, click here.
When is the Right Time to Begin Taking Complete Mock Tests?
Let's divide this into 2 categories one for students who are giving NEET UG for the first time and second for the droppers.
For first-time NEET UG test-takers, there are two years to explore the syllabus thoroughly. It is important to stick to a study plan or use EduRev's guide on How to Study for NEET UG Exam 2023 to create one. It is also important to take part tests seriously before moving on to full-syllabus tests.
If you are a dropper, it is recommended that you attempt all the part tests, however, not attending a few of them is not a major issue. Instead, focus on improving the sections that you are weaker in.
If you are a first-timer, it is recommended to begin giving full syllabus tests at least two months before your exam. For example, if your exam is scheduled for May, you should start your mock tests in March. Additionally, if you have already finished your class 11 syllabus, you should attempt 10-12 mock tests of class 11 throughout the year.
Droppers can begin their full mock exams when they are done with their syllabus, be it before three months, two months, or even one month. However, they should bear in mind that if they start giving mock tests in the last month, they must take a mock test every single day without skipping any. Even it is obligatory for all people, regardless of whether they are first-time test-takers or dropouts, to take and evaluate a mock test every day during the last month.
Train your mind to take practice tests during the same time frame as the actual NEET Exam (2-5 pm each day) so that you can get accustomed to being alert during this period of the day. It's like forming a habit, and if you take tests at different times, you may find yourself feeling drowsy during the allotted time period.
Don't be afraid to make mistakes when taking mock tests, as the more mistakes you make and learn from them, the fewer mistakes you'll make in the actual NEET Exam.
Don't fall into a cheating pattern: Sometimes it may seem like a good idea to collaborate with a friend and split up topics so that you can both get better scores on a mock test. However, this is not a good long-term strategy and will be detrimental as it will make it much more difficult for you to learn the topics later on which you are skipping right now. So, Avoid this type of cheating to make sure you are properly learning the concepts.
Don't be scared of less marks: When taking mock tests from the comfort of home, it might be tempting to refer to formulas from books or notes. But this approach can lead to an unhealthy state of mind where you're always relying on such formulas, rather than testing your knowledge. Therefore, it's important to give tests without shortcuts and evaluate your knowledge on the basis of what you remember and how fast you can recall the concepts.
Step 7: Revise Consistently
You should keep revising at regular intervals to reap the full benefits of studying and practising NEET Biology. This ensures that the information learned remains fresh in the mind.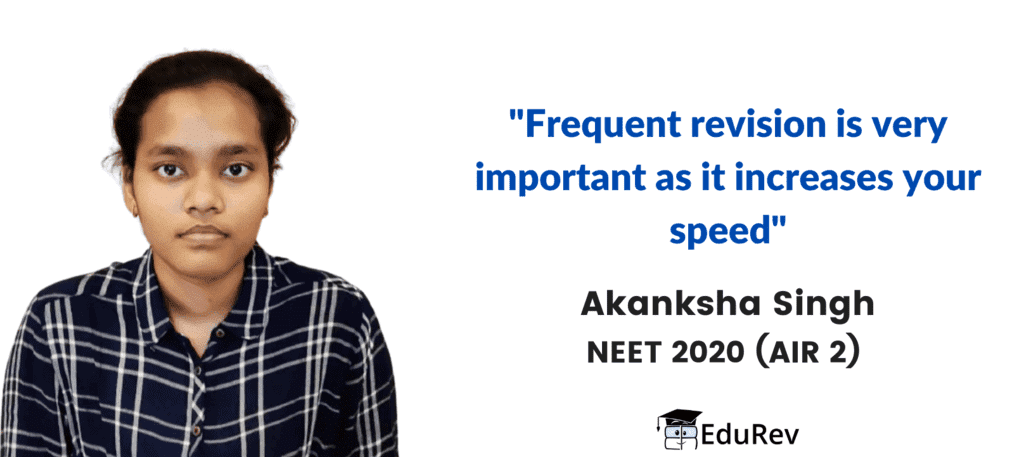 NCERT biology revision must be done from around 20-25 times.

You can revise notes from the EduRev course of Class 11th Biology and Class 12th Biology which is entirely based on NCERT.

Write extra content or questions in margins within the NCERT so that revision must be done easily.

Do frequent revision of your own notes many times. Avoid wasting your precious hours on revision without a plan. As some students spend 2-3 hours revising a single chapter, which is the same amount of time they spent studying it for the first time. Hence, set a maximum time of one hour for each chapter you revise.

Some chapters may require more time, such as the Principle of Inheritance & Variations or Molecular Basis of Inheritance. In such cases, allocate one and a half to two hours for revision. However, for other chapters, stick to one hour of revision only.

Maybe you face little bit of difficulty while revising at first and it may take more than 1 hour in a chapter, but that's okay you will progress slowly.

While revising if you encounter doubts, do clear them and don't move forward before that.

The revision will help you in understanding and retaining the concept in mind more and more.

For revising the notes, EduRev provides you with short revision notes of biology that too completely based on NCERT, for revising Click here.

The best revision is through by giving Subject wise tests, topic-wise tests, Part tests & Full Mock Tests. EduRev provides all these tests for you to revise excellently.

You must mark the important and tricky questions while attempting the mocks, go back to them and revise.
Additional Information
1. Overall Understanding of the Exam
Check out these documents and prepare your strategy for NEET accordingly
2. Check out Subjectwise Strategies