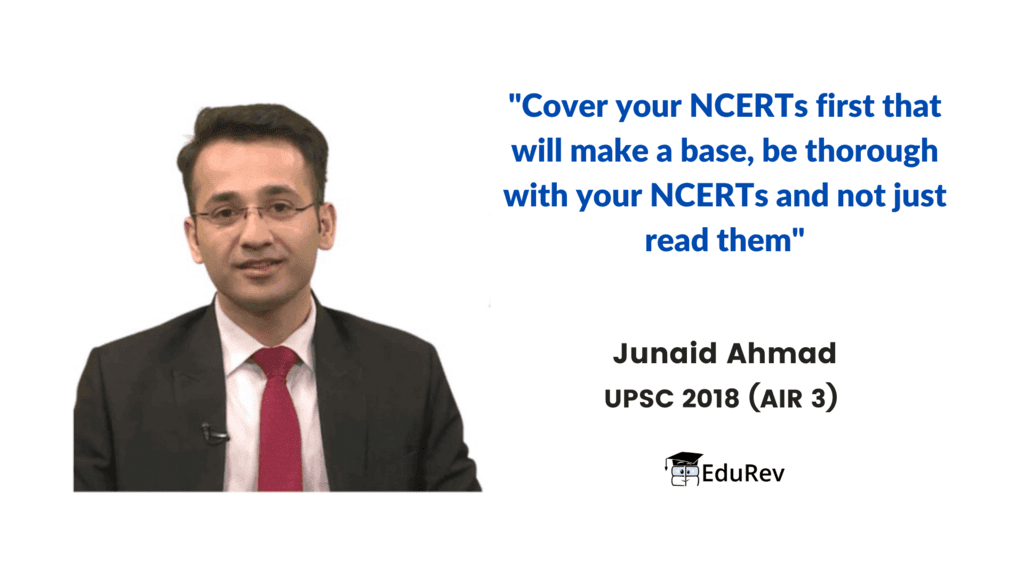 NCERT Books are a holy grail for UPSC Exam Preparation. These books not only form the foundation but they develop a perspective for the Civil Services Exam.
Toppers first study the concepts from NCERT and then, they practice NCERT MCQ tests to strengthen their concepts.
Once they attain conceptual clarity, then they move on to studying reference books (Laxmikanth for Indian Polity, Spectrum for Modern History & others) which are important for UPSC preparation.
Why read NCERTs?
NCERTs are the key to most of the questions asked in prelims
Very important to build the basic concepts and understanding in each subject
Basic terminologies get cleared by reading them
In previous years, few questions are asked DIRECTLY from NCERT
The NCERT textbooks from classes six to twelve play a very significant role in IAS exam preparation.
How to Read NCERT Books Efficiently with EduRev App?
EduRev team has done exhaustive research by interviewing or referring to the interviews of multiple toppers/rankers including AIR 1 2017 Anudeep Durishetty, AIR 5 2018 Srushti Deshmukh & others, to create courses on EduRev, which provide all the important study material for NCERTs at one place, which is of high value & matters in their UPSC preparation.
1. Read NCERT Textbooks
EduRev has compiled the NCERTs for all the subjects from Class 6 to Class 12, which you can easily access anytime from anywhere as per your convenience through EduRev App or EduRev website.
Find all NCERT Textbooks in a single course on EduRev: NCERT Textbooks Class 6 to Class 12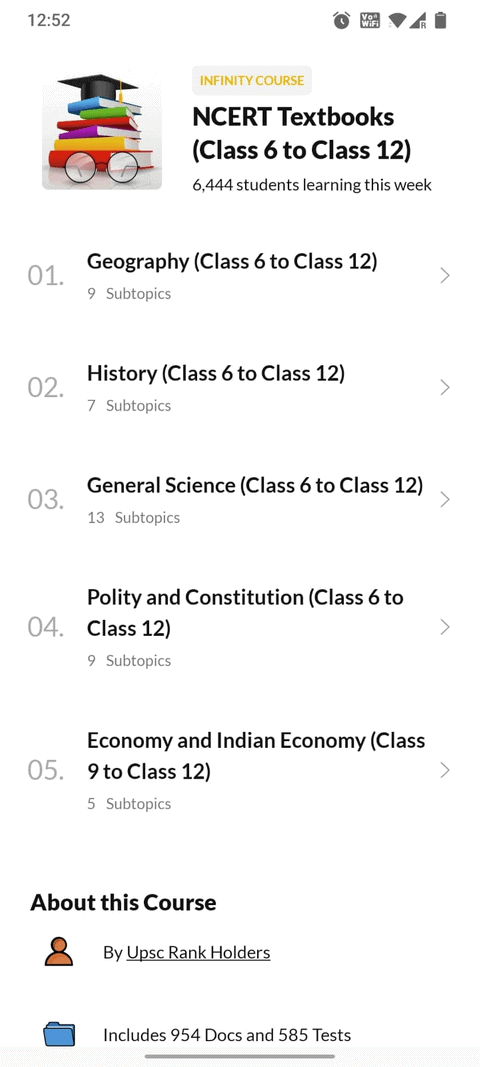 NCERT Textbooks arranged chapter-wise at EduRev
If you've already studied the NCERTs, EduRev also offers summaries for quick revision & saves your precious time, which is recommended by toppers. You can also study NCERT Summaries at EduRev.
2. Must Read (Old & New NCERT Textbooks, Tamil Nadu Board Books)
Old NCERTs are content-rich. Also, the chronological order of events is better maintained in old NCERTs. So, EduRev team has also compiled all the NCERTs in this course of Must Read (Old & New) NCERTs for IAS Preparation.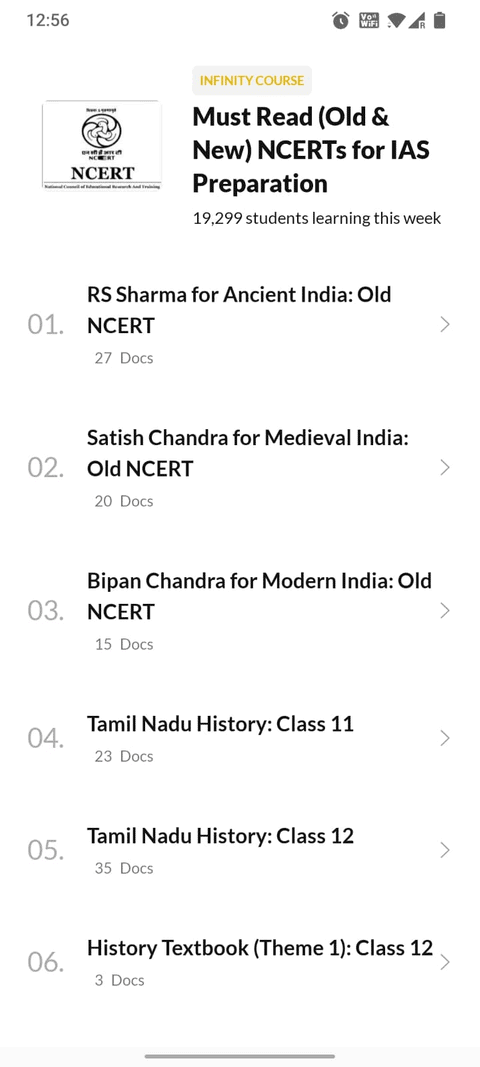 Must Read NCERTs for IAS Preparation (Old & New)
3. NCERT based Tests for UPSC Preparation
After you've read the NCERTs, it is recommended to attempt MCQ tests to help you strengthen your concepts and ensure that you've understood all the concepts right. All these tests have been prepared by the experts of EduRev as per the latest pattern of the UPSC exam. You can practice these tests here: NCERT based Tests for UPSC Preparation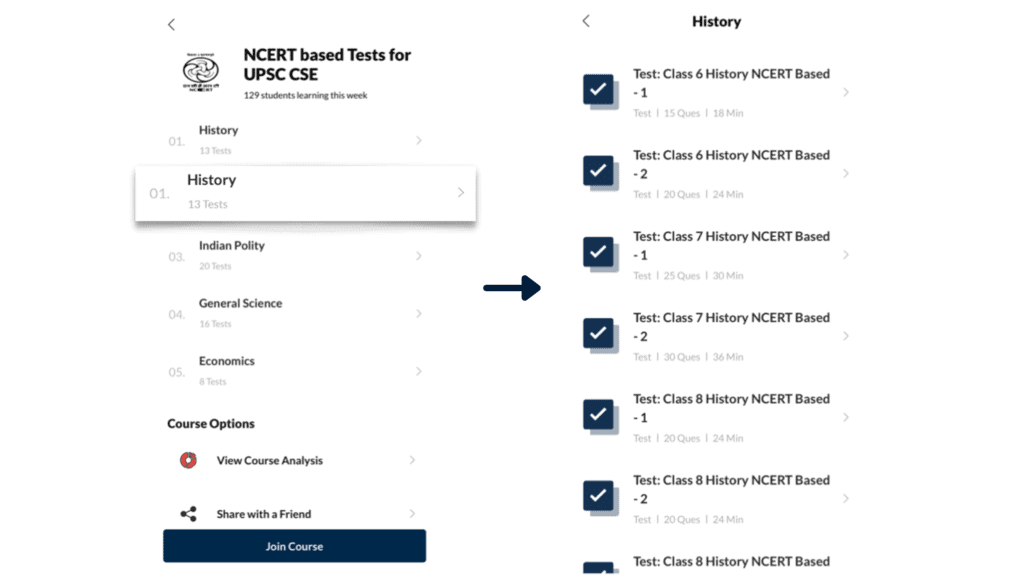 In case if you don't feel confident while attempting these tests, we recommend you to give another read to NCERTs. Please evaluate yourself on a subject & class-wise basis. And don't forget that NCERTs are the foundation of your UPSC preparation.
4. Revision through NCERT Summaries & Videos
Once you've studied the NCERT textbooks and attempted the tests, you can move ahead with the reference books. And whenever you feel the need to quickly revise NCERTs, EduRev has got your back. And as promised, have got everything compiled in one place.
You can access all the video lectures through Class 6 to 12 NCERT Video Summaries for UPSC. Each chapter has been covered with 15-30 mins in these quick videos.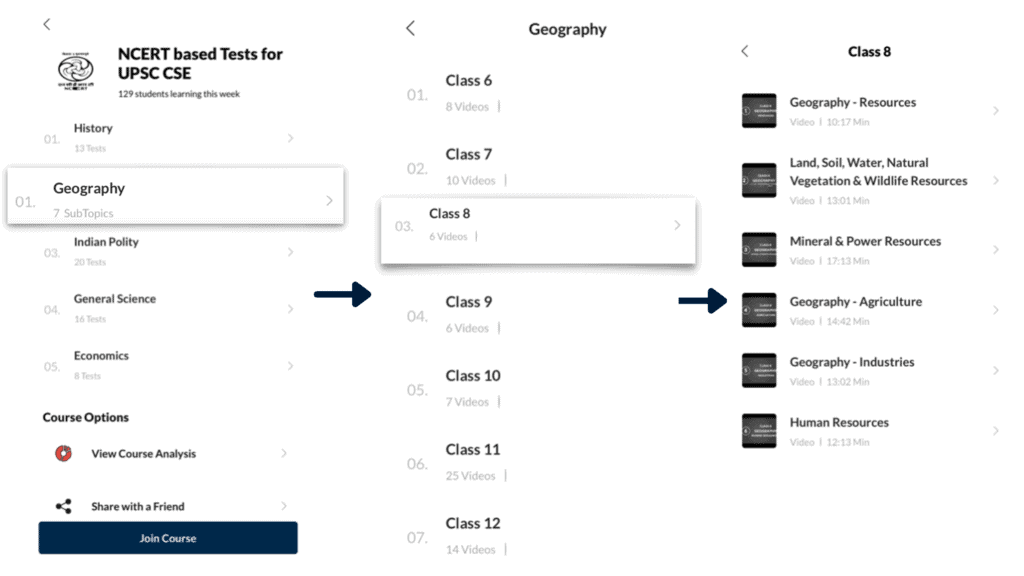 Video Summaries for all the chapters of NCERT for Class 6 to 12
NCERT Summaries / Revision Notes: NCERT Summaries are available for all the subjects (History, Geography, Economics, Polity & General Science). These have been created topic-wise as some topics overlap in the NCERTs of different classes. You can study the NCERT summaries or revision notes at EduRev: NCERT Summaries in the Famous Books for UPSC (Summaries & Tests).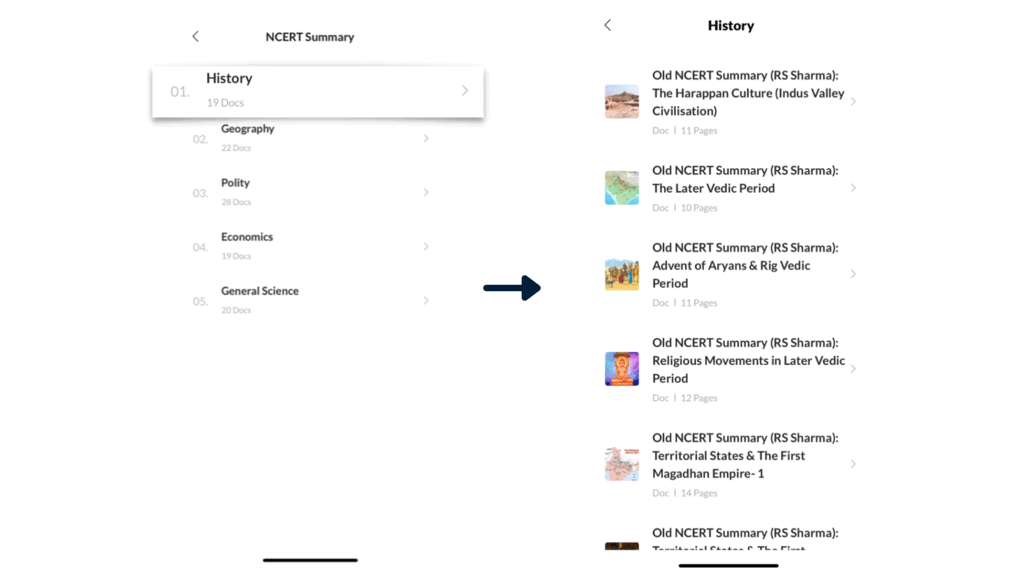 NCERT Summaries of all the subjects on EduRev
5. Revise, Repeat & Practice: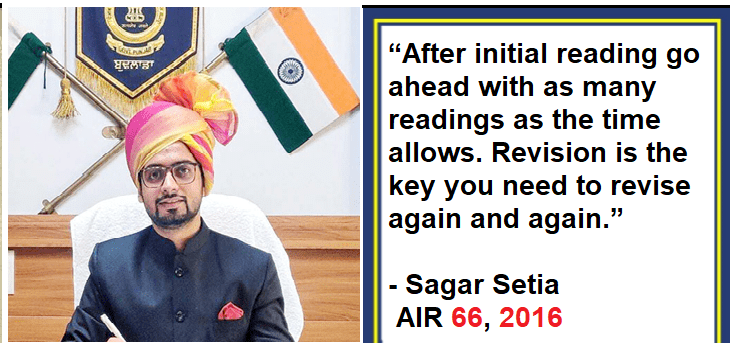 Revise through NCERT Practice Tests: EduRev has also provided practice tests with every chapter of NCERT to help you quickly revise a chapter. Please note that these tests are quite easy compared to the UPSC level and the objective is quick revision only.
You can find these tests under every subject-wise course on EduRev or check out directly from NCERT Books, Summaries & Tests
Sharing below a snapshot of the History course including NCERT Tests for better understanding, as you get all the NCERT Textbook, notes & tests in a single place. Similarly, you can find NCERTs in every subject-wise course, providing you with what actually matters in the UPSC preparation in a convenient way.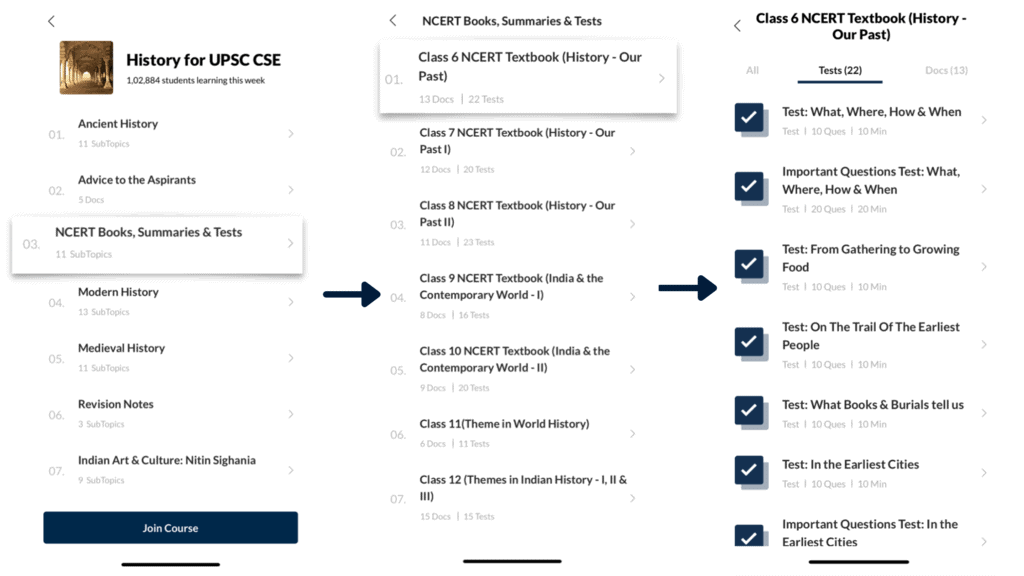 UPSC CSE History NCERT Books, Summaries and Tests at EduRev
Other Important Links:
1) Courses for all subjects:
EduRev offers various subject-wise courses for NCERT Textbooks, Summaries & Tests. Find them here:
2) Prepare each subject well from EduRev:
Wishing you a great learning experience with EduRev!