Students waste a lot of time, effort, and money preparing for NEET simply because they don't know where to start. The EduRev infinity Courses were designed to guide and direct aspirants in the right direction so that they can pass the NEET exam with the least amount of time, effort, and money spent by simply studying What Actually Matters.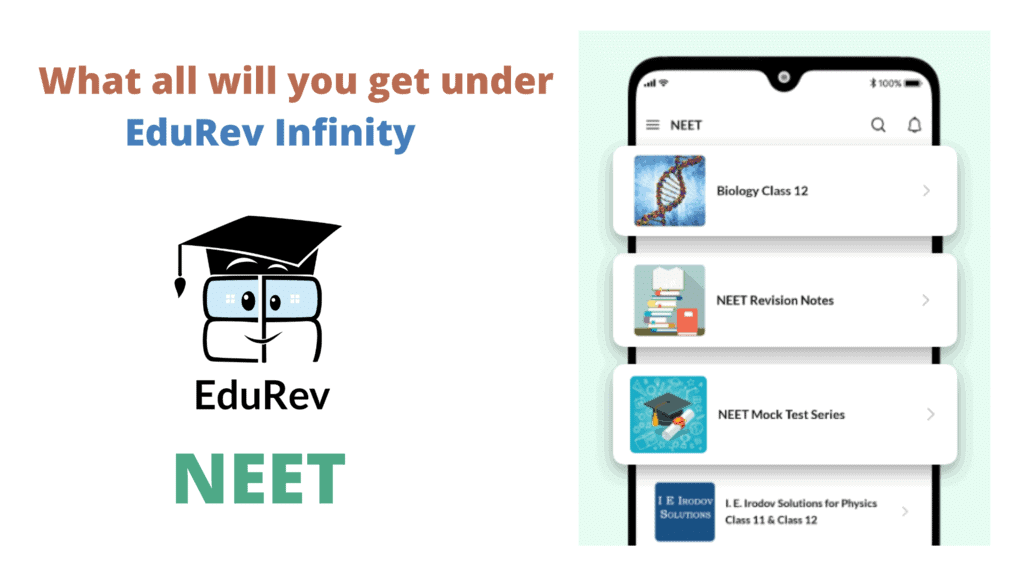 What all will you get under EduRev Infinity Package for NEET?
1. NCERTs: Textbooks, Notes, Videos & More
NCERT is the best source to clear NEET Exam. NCERT is considered as Bible for NEET Exam. Solving MCQs based on NCERT is the most important part while preparing for NEET. EduRev Infinity provides comprehensive courses based entirely on NCERTs to assist you in preparing for the NEET Examination.
2. Subject-wise Preparation for NEET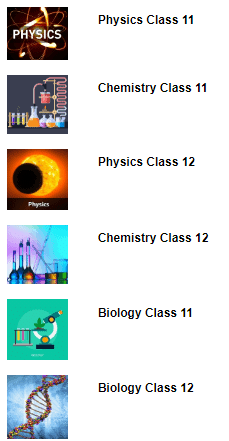 Features of these courses are given below:
There are detailed videos available for every topic in Biology, Chemistry, and Physics for students in grades 11 and 12. Under the EduRev Infinity package for NEET, you will receive the highest quality videos.
For every chapter and topic, NCERT-based notes are available; it will be beneficial for you to revise from EduRev; the notes are precise and provide clarity of concept.
For each and every topic and for all of the chapters in Biology NEET, there are topic-by-topic and chapter-by-chapter tests, which you can use to greatly improve your preparation.
You can also find a mind map in each chapter of each course; mind maps can help you connect the dots in your mind and develop relationships between different topics; they can also help you revise and memorize things more effectively and in less time.
All chapters in each course have NCERT textbooks, NCERT Exemplars, and NCERT Solutions. You can read and practise content from EduRev courses right away.
PYQs from the previous 28 years are also available in each chapter of each course. For the past 28 years, these are chapter-by-chapter PYQs through which you can get an idea of the types of questions that have appeared in previous years for specific chapters.
H.C. Verma, Irodov and DC Pandey solutions are present in all the chapters of Physics class 11 and Physics Class 12 course.
(3) Mock Test Series
EduRev compiled the best mock test series for NEET, which you can attempt at any point in time whenever your preparation reached the final point. It provides you with lots of Full-length Mock tests, Part tests, Subject wise mock tests and topic-wise mock tests also. Features of all the tests are given below: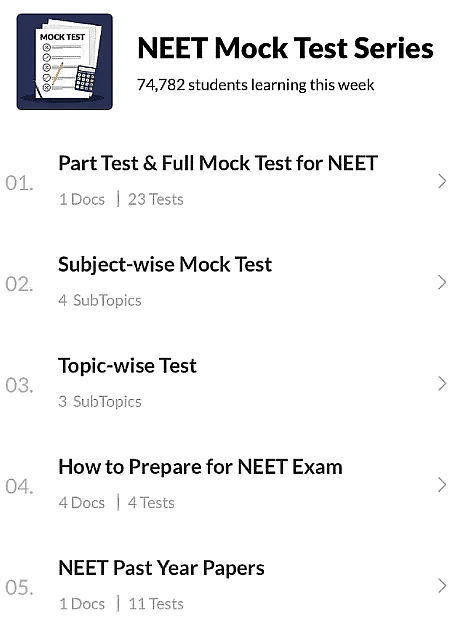 Features of the NEET mock test series are given below:
3.2 Other Mock Test Series
Although all of these exams are now merged into NEET, toppers believe that the questions that appear in these exams will be useful for NEET aspirants, so practising questions from these test series is recommended.
(4) NEET Previous Year Questions
EduRev Infinity Package for NEET provides you with a compilation of previous year's questions chapter-wise that will help you in understanding the paper pattern and types of questions asked in the exam. They will be of great help for practice too.
4.1 Chapter-wise Previous Year Questions solved
The features and list of the courses covering Previous Year Questions chapters are:
(i) Biology 31 Years NEET Chapterwise Solved Papers
(ii) Physics 31 Years NEET Chapterwise Solved Papers
(iii) Chemistry 31 Years NEET Chapterwise Solved Papers
(iv) Biology 28 Years NEET/AIPMT Question Papers of Class 12
(v) Chemistry 28 Years Past year papers for NEET/AIPMT Class 12
(vi) Physics 28 Years Past year papers for NEET/AIPMT Class 12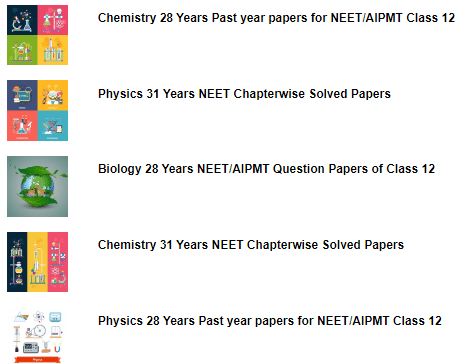 4.2 NEET Past Year Papers with solutions
The best method to get acquainted with the typology of questions of NEET is to solve PYQs of at least the previous 10 years.
This course includes the past 10 years' complete papers of NEET.
It includes subject-wise Previous Year Papers as well.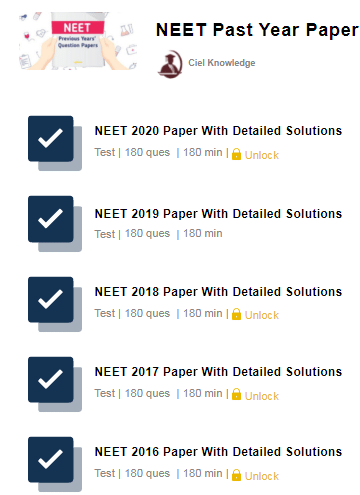 (5) I.E. Irodov, DC Pandey & HC Verma Solutions for NEET Physics

EduRev compiled questions (with answers) of some most important books for the NEET Exam. These books are the most preferred books for practicing questions for NEET Physics. You must practice questions from these books to improve your preparation level.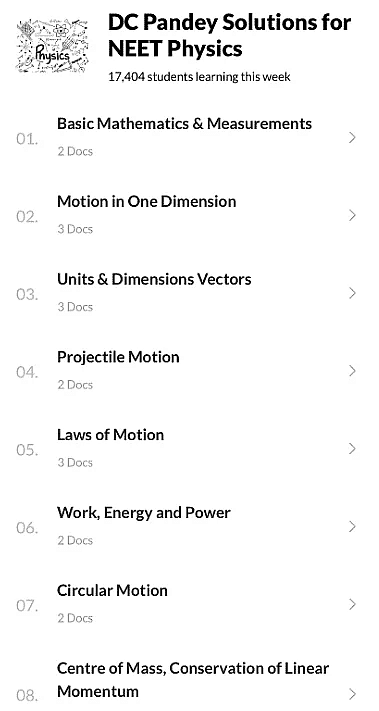 (6) Revision Notes for NEET

Revision is the most important part of NEET preparation. According to toppers, the revision must be done 20-25 times before sitting for the main exam. Therefore, EduRev brings to you the best NEET Revision notes. NEET Revision Notes will save you time searching for concise notes because EduRev's Revision Notes Course contains everything you need to revise. You can also use this course to practise some more tests.
6.1 Revision notes
(i) Biology
(ii) Chemistry
Physical Chemistry
Inorganic Chemistry
Organic Chemistry
(iii) Physics
7. Subject-Wise Mind Maps for NEET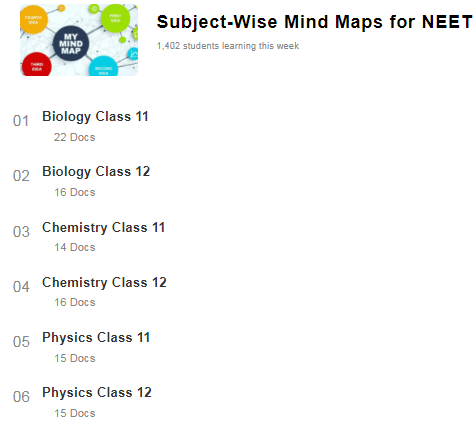 Mind maps connect dots or relations among different topics, so it becomes easy for you to understand the concept.
These mind maps will help you in revising as well as in memorizing in a very short duration of time.
(8) Partner Courses
In addition to the Infinity package, we provide recorded lectures from the best teachers of NEET. You will get videos for all the chapters of Physics, Chemistry and Biology of class 11 and class 12.